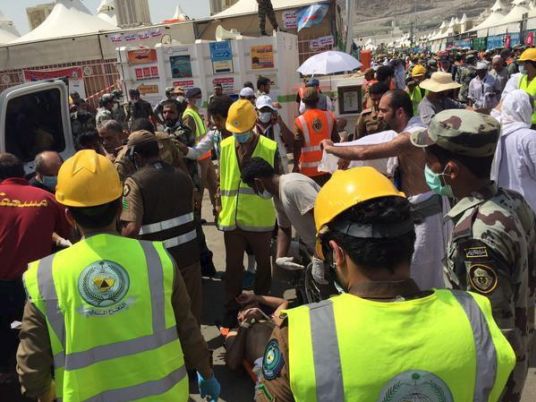 Injured survivors of a hajj stampede that killed 769 people have recounted their struggle to survive, trapped among a surging crowd where escape routes were blocked.
From his bed at Mina Emergency Hospital, Sudanese pilgrim Ahmed Mohammed, injured on his back and leg, remembered how he was caught on the front lines of the throng.
"I felt tired, I couldn't move," said the 57-year-old.
"I told myself that if I fall here, they will trample on me, as I had already seen people on the ground being stepped on."
Thursday's disaster occurred among the city of white tents where pilgrims stay in Mina, near Mecca, as hundreds of thousands converged on Jamarat Bridge, a five-storey structure where they were to perform a ritual stoning of the devil.
"I thought of entering a nearby camp but those guarding the surrounding tents were refusing to let anyone in… and so people started climbing over the tents," Mohammed said.
He finally escaped into a tent housing Tunisian pilgrims where he collapsed and was rushed to the hospital, one of 934 people injured in the crush.
"Everybody was trying to survive," another injured pilgrim, Abbas Tijani of Nigeria, said from his bed at the same hospital.
Tijani said he fell unconscious while he tried to climb a fence to escape death as chaos unfolded.
"People were stepped on by people," he said, recalling how there was no time to stop and care for the injured.
"Many people were on the ground, and attempting to pick them up would lead to another disaster," he said.
The crowd had gradually built up around him as groups of pilgrims headed to Jamarat Bridge to throw pebbles as part of the ritual.
Eventually, "everybody was confused… running for their lives," he said, a distant look in his eyes.
– 'Go back! Go back!' –
"I was trying to go to the fence," recalled Tijani. "Some people were on top of the fence trying to pull us up. The stampede was so much that I couldn't be pulled up."
The next thing he knew, Tijani was on the hospital bed surrounded by medics.
"The stampede was too heavy, too heavy."
Saudi Arabia's health minister blamed the disaster on the pilgrims themselves for not "following instructions".
Interior ministry spokesman General Mansur al-Turki said "a large number of pilgrims were in motion at the same time" at an intersection in Mina.
"The great heat and fatigue of the pilgrims contributed to the large number of victims," he said.
Tijani confirmed earlier witness accounts that police had closed routes in the area. He said there was only one entrance left.
Another group of pilgrims was meanwhile coming from the opposite side after apparently completing the stoning ritual.
A police van that was on the right side of the one-way road, lined up with pilgrim tents, worsened the crowding, Tijani said, remembering how he was pushed further left towards the fence.
"People were trying to manoeuvre to the front for safety but police were saying 'Go back ! Go back!'," he recalled.
Tijani asked someone else to continue the three-day stoning ritual on his behalf.
He said he would only return to hajj in future "if there's improvement in the Jamarat area."
by Lynne al-Nahhas