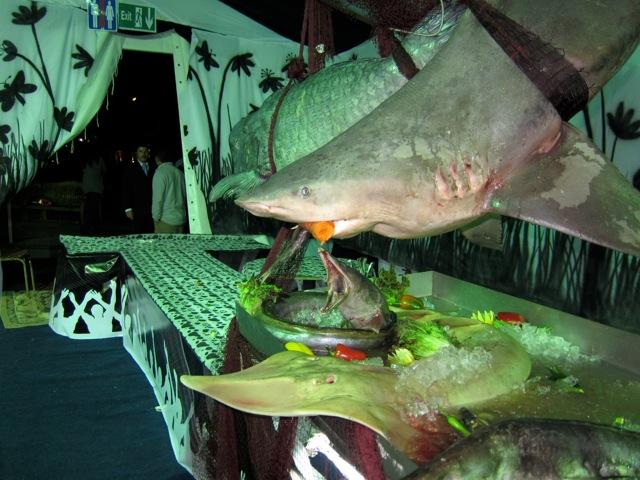 New articles have been added to the existing government ban on shark fishing, as a result of a campaign launched by the Hurghada Environmental Protection and Conservation Association (HEPCA) for the protection of sharks in the Red Sea.
It is now totally prohibited to display or sell any marine species that is protected or endangered.
On its website, HEPCA asked all tourists visiting the Red Sea, as well as residents, to keep their eyes open.
"Please send us a report if you witness any taking of endangered species; this is an illegal action and shall not be accepted," the association noted.
The campaign started after HEPCA supporters found a photo on Facebook of a dead shark displayed on a buffet table in one of the biggest hotels in Sharm el-Sheikh. A few days later, they also received news that a popular grocery chain was selling shark meat.
To counter this, HEPCA members contacted a group of government officials, including the environment minister, tourism minister and Sinai governor, who responded immediately.
"Since 2000, we have been fighting to prevent shark fishing in Egypt for two main reasons," says Mahmoud Hassan Hanafy, professor of marine environment at Suez Canal University and HEPCA's scientific adviser.
He says sharks have great value because they play an important role in maintaining the ecological balance, in addition to serving as an indicator for how healthy the environment is.
"In terms of the economic aspects, sharks have utmost importance, as they're considered a significant attraction for tourists and bring in large amounts of money to Egypt," he adds.
Hanafy says natural resources are divided into living and non-living resources, and that, unfortunately, many people don't pay attention to living types, even though they are more sustainable and can significantly contribute to national income in the long term — unlike nonrenewable resources.
Thus, they need more protection and care to guarantee their sustainability for future generations, he explains.
"In a place like Brothers Island, an important diving site in the south of the Red Sea, you can find large numbers of mega sharks, which attract thousands of divers who pay large amounts of money to enjoy the beauty of the place," he says. Each mega shark can attract up to US$200,000 yearly, which means a single shark could be worth $4–8 million during its life span, which ranges from 20 to 40 years.
Although Egypt received an international award in 2005 for being one of the main spots protecting sharks around the world, and has signed dozens of international agreements in various environment protection fields, this has proved to be insufficient in controlling the illegal fishing and selling of sharks.
Hanafy says displaying sharks as a decoration in hotels and restaurants gives a bad impression to visitors, making them think shark fishing and trading are legal activities in Egypt. Moreover, he asserts that eating shark meat isn't healthy, as it contains dangerous levels of mercury and other toxic heavy metals.
In addition to applying the laws and punishing violators, he believes it is important to increase society's awareness about the significance of the species through educational curricula.
"Despite the fact that the new Constitution mentions the natural resources and the marine environment, and that Egypt has enough laws to protect these species, this is clearly not enough," he says. "It's very important for every citizen in this country to carry the responsibility of protecting and preserving our natural resources treasures, which is one of the basic foundations of development."
This piece was originally published in Egypt Independent's weekly print edition.