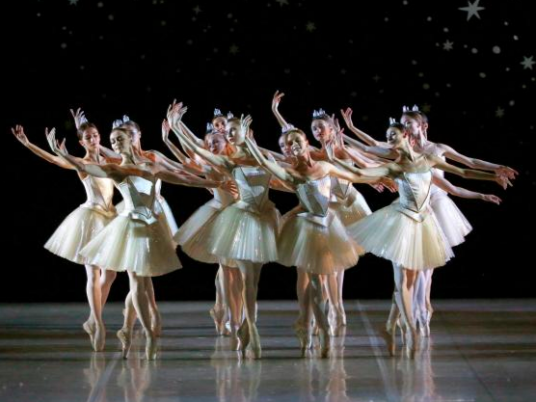 The Egyptian Opera House celebrates Christmas and the New Year with the Cairo Opera Ballet Troupe, accompanied by the Cairo Opera Orchestra, led by Maestro Nair Nagy.
Together they will present the work of the wonderful Russian composer Tchaikovsky in the "The Nutcracker" directed by Abdel Moneim Kamel and directed by Armenia Kamel.
The Nutcracker will be performed in 5 concerts on the Grand Theater starting at eight in the evenings of Sunday, Monday, Tuesday, Wednesday, and Thursday 26, 27, 28, 29 and 30 December, in addition to a matinee concert at 11 am on Thursday 30 December.
Through the use of dazzling artistry and optical illusions, the ballet tells the story of a little girl named Clara on Christmas Eve who is gifted a Nutcracker doll which she cherishes.
Unfortunately her brother breaks the doll, leaving Clara heartbroken until she falls asleep and has a dream where the Nutcracker comes back to life and transforms into a handsome young prince, sending her on a series of fantastical adventures.
The Nutcracker ballet was written by Tchaikovsky in 1891, inspired by a story from French writer Alexandre Dumas who in turn borrowed it from Ernst Hoffmann's "The Nutcracker and Mouse King".
It officially debuted on 1892 at the Imperial Opera House in Saint Petersburg.
The ballet is also considered one of the most important classical performances for the Cairo Opera Ballet Company, who presented it for the first time at the Grand Theater in 1993.
Since then the ballet has been presented every December to celebrate the New Year with the same costumes and music in order to preserve its timeless atmosphere.