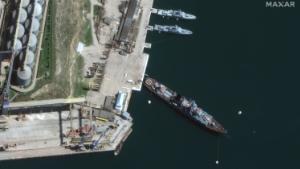 Ukraine said its last two remaining units in the besieged southern city of Mariupol have been able to join forces thanks to a "risky maneuver," bolstering their resistance against Russian forces.
Meanwhile, Russia said Mariupol's commercial seaport had been captured and 1,000 Ukrainian marines had surrendered.
Here's what we know about the latest situation in the port city:
Defenders join forces: Commanders of two Ukrainian units defending Mariupol issued a video statement saying they had been able to join forces. Denys Prokopenko, the commander of the Azov Regiment, said his unit had linked up with troops from the 36th Marine Brigade. Serhii Volyna, commander of the Marine Brigade said, "We will do whatever is necessary to successfully complete our combat mission."
"Risky" move: Ukrainian presidential adviser Oleksiy Arestovych had said earlier that the join up was a "risky maneuver." Arestovych said, "This is what happens when officers do not lose their heads, but firmly maintain command and control of the troops." CNN cannot independently confirm the details of the operation. Arestovych said the move has "seriously strengthened their defense area."
Surrounded: Both units have been involved in a last-ditch attempt to resist a Russian offensive against the city that has lasted over a month. The units are surrounded by Russian forces and running low on supplies.
Key sites: The Ukrainian defenders have been fighting to hold parts of the port and Azovstal, a giant steel factory that lies on Mariupol's eastern outskirts.
Crucial moment: Independent analysis of the situation in Mariupol on Sunday by the Institute for the Study of War said the defense of the city had reached a critical stage. The join up of Ukrainian forces came after "Russian forces bisected Mariupol from the city center to the coast on April 10, isolating the remaining Ukrainian defenders in two main locations: the main port of Mariupol in the southwest and the Azovstal steel plant in the east," the analysis said.
Russia claims advances: In a statement Wednesday, Russian Defense Ministry spokesperson Maj. Gen. Igor Konashenkov said Mariupol's commercial seaport had been captured. CNN was not independently able to verify that claim. The Russian military has repeatedly claimed to have taken strategic positions in the city, but has also faced stiff resistance from Ukrainian forces.
Marines surrender: The Russian military claimed in a statement Wednesday that 1,026 Ukrainian marines — including 162 officers and 47 women servicemembers — had surrendered in the vicinity of the Ilyich Iron and Steel Works in Mariupol, a claim that could not be verified. Prokopenko, of Ukraine's Azov regiment, acknowledged that some Ukrainian defenders had surrendered.
Propaganda battle: Russia has focused an intense propaganda effort around the battle for Mariupol. Russian state TV aired footage Wednesday allegedly showing Ukrainian marines surrendering to Russian forces in the city. Photos have also emerged from AFP photographers on a trip organized by the Russian military in Mariupol. The images show Russian soldiers in the bombed-out theater hit by a Russian strike, and patrolling a street.
Residents can't get out: About 180,000 civilians remain trapped in and around the city amid widespread devastation and relentless bombardment, Mayor Vadym Boychenko said Wednesday. Ukraine's President has said "tens of thousands" have died in Mariupol, a figure that cannot be independently verified.