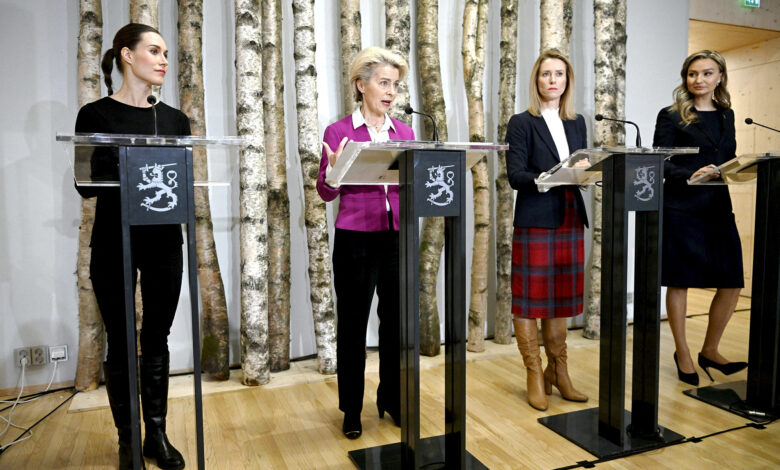 The European Union is preparing a ninth package of sanctions against Russia following Moscow's latest barrage of strikes on Ukraine, President of the European Commission Ursula von der Leyen said Thursday.
"We are working hard to hit Russia where it hurts to blunt even further its capacity to wage war on Ukraine and I can announce today that we are working full speed on a ninth sanctions package," von der Leyen told a news conference in Espoo, Finland.
Von der Leyen added she was "confident that we will very soon approve a global price cap on Russian oil with the G7 and other major partners," after the West's biggest economies agreed in September to impose a cap to reduce Moscow's ability to fund its war.
"We will not rest until Ukraine has prevailed over Putin and his unlawful and barbaric war," she continued.
Western sanctions are taking their toll on Russia, particularly as the cold winter months begin.
"The mood in Moscow and the country is now extremely gloomy, quiet, intimidated, and hopeless," 34-year-old Lisa, who declined to give her last name and said she was a film producer, told CNN.
"The planning horizon is as low as ever. People have no idea what might happen tomorrow or in a year," she added.
While the shelves in most stores remain well stocked, Western products are becoming increasingly scarce and very expensive, further driving prices that are already hammering many Russian households.
Familiar goods disappear, starting from toilet paper and Coca-Cola, ending with clothes," Lisa said.
Western sanctions have also sharply curtailed Russia's ability to replenish the munitions it is using in Ukraine, according to analysis from the Office of the Director of National Intelligence last month.