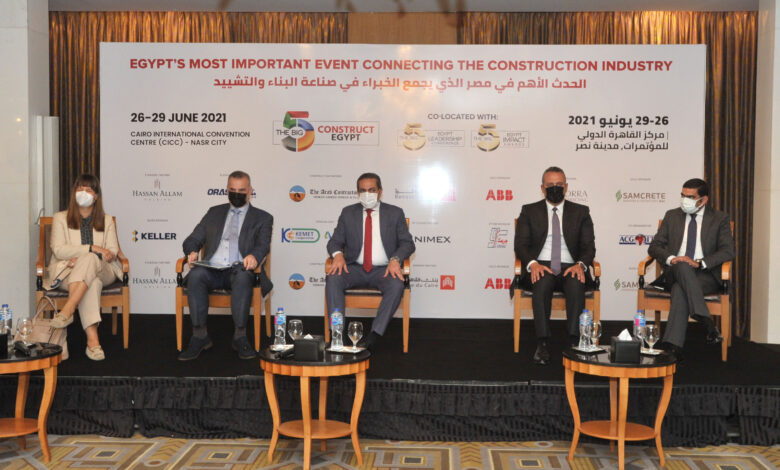 In a press conference held at the Four Seasons Hotel Cairo at Nile Plaza, leading international events organizer dmg events announced that "The Big 5 Construct Egypt" event will return from 26 to 29 June at the Cairo International Convention Centre (CICC), to facilitate business opportunities in Egypt's growing construction project market.
Egypt is the third largest construction market in the MENA region, according to the press conference, and that activity remains a bright spot for nation's economy with a pipeline of known and un-awarded projects worth $354.8 billion.
Opening the press conference, Deputy Minister of Housing, Utilities, and Urban Communities for National Projects  Khaled Abbas said: "We are pleased to welcome The Big 5 Construct back to Egypt, because this is a testament to the strength and opportunities in the construction sector. Through this event, we anticipate a lot of knowledge sharing and best practices in the latest technologies and equipment. Our aim is to utilize the best of these to support in the efficient and cost-effective implementation of Egypt's ambitious construction and development projects."
Also present at the conference was the President of dmg events Matt Denton, the CEO of Hassan Allam Construction (HAC) Mohamed al-Dahshoury, leading economist and Managing Director for the Southern and Eastern Mediterranean Region at the European Bank for Reconstruction and Development (EBRD) Heike Harmgart and the Area Managing Director of North Africa for Consolidated Contractors Company (CCC) Mohamed Tarek.
Denton proclaimed that powerful face-to-face connections between industry stakeholders will be significant for the sector's sustained development.
"It is more important than ever for us to offer a safe environment for the community to come together where they can boost business activities, rebuild partnerships, and apply lessons learnt to future projects all in one place
"To that end, in addition to offering vital trading opportunities this year, The Big 5 Construct Egypt will launch new high-level features focused on strategic industry development and innovation, making it an unmissable business event for the construction sector in the wake of COVID-19 disruption," he said.
Now in its third edition, the event will launch "The Big 5 Egypt Impact Awards", designed to recognize the businesses and people driving innovation in Egypt's industry.
In addition, it is also launching "The Big 5 Egypt Leadership Conference", a highly anticipated three-day event scheduled to gather regional ministers and international leaders to explore the construction sector's future contribution toward economic growth and diversification in Egypt.
Set to speak at The Big 5 Egypt Leadership Conference, Harmgart said: "The Big 5 Egypt Leadership Conference is a great opportunity for policy makers, financial institutions and investors to discuss the priorities for Egypt and to promote sustainable green infrastructure and construction sectors."
Beyond the conference, the event also offers free-to-attend CPD certified talks across several critical themes, presenting a unique opportunity for visitors to stay up to date on trends in the sector while gaining continuing professional development points for their professional record.
To compliment industry-defining features at the event, The Big 5 Construct Egypt will gather hundreds of leading brands from more than 15 countries such as Canada, Germany, Greece, Russia, Italy, UAE and Saudi Arabia.
Heavyweights signed up to exhibit include the likes of Hassan Allam Holding, Orascom Construction, El-Soadaa, ASGC, Hanimex, Al-Zamil, Al-Ahram, Wellbond, Al-Amal and more.
Speaking on the upcoming exhibition, Dahshoury said: "The Big 5 Construct Egypt represents a great place for business leaders to discuss, sign agreements and present investment opportunities, at a time when infrastructure projects play a decisive role in the economic recovery, not only in Egypt but around the world."
With over 85 years of history, Hassan Allam Holding has played a key role in building strategic and national projects for the Egyptian state, including water, energy and infrastructure projects thus making Hassan Allam Holding one of the biggest construction companies globally.
The Big 5 Construct Egypt exhibition is free to attend at the Cairo International Convention Centre (CICC).
The event is supported by Strategic Partner- Hassan Allam Holding, Platinum Partner- Orascom Construction, Construction Partner- The Arab Contractors, Banking Partner- Banque du Caire, Gold Sponsors- ABB, CRC Dorra and Samcrete, Silver Sponsor- Keller, Stone Sponsor- Gremic, Supporting Association- The Chartered Institute of Building (CIOB), Research Partner – ABiQ, and VIP Lounge Partner – Hanimex.