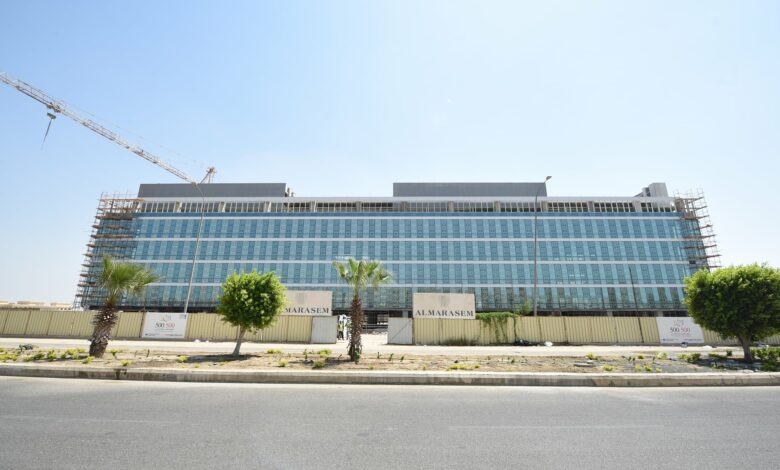 Cairo University President Mohamed al-Khosht announced Monday that the New National Cancer Institute in Sheikh Zayed (500 500 Hospital) has been accredited as a green eco-friendly hospital with a "golden level" evaluation, becoming the first hospital in Egypt to obtain this certificate in the design phase.
He explained that the hospital obtained the evaluation according to the criteria of the National Housing and Building Research Center of the Ministry of Housing, Utilities and New Communities.
Khosht added that the evaluation included several areas: sustainable site requirements, energy efficiency, water, materials and resources, indoor environment quality and creating a calming environment, while improving management and operation, innovation and creativity.
He pointed out that one of the goals of the eco-friendly hospital is to achieve the highest levels of sustainability and comply with green architecture design standards.
The eco-friendly hospital aims to reach the highest efficiency in medial services, Khost assured, while using the best environmentally friendly health practices.
The design of the hospital adopts green architecture principles, which will help address multiple issues such as dealing with biomedical and consumer waste, infection and epidemic control, water and energy efficiency, and the preservation of natural resources in general.
The Dean of the National Cancer Institute Mohamed Samra said that the design of the hospital helps in reducing water and energy consumption, maintaining environmental balance and creating a healing environment.
Cairo University President Mohamed Othman al-Khosht announced in 2021 that the university will inaugurate the New National Cancer Institute, also know as the 500 500 Hospital, which will be the world's largest hospital for treating cancer.
During a phone interview with al-Hadath channel on Monday, Khosht described the project as a specialized and integrated teaching hospital for treating all types of cancer, with a capacity of 1,020 beds in the internal department, 500 beds in the day treatment unit, 60 major operating rooms, and 15 radiotherapy machines.
The New National Cancer Institute is located in Sheikh Zayed City on an area of 145,000 square meters. The complex itself consumes around 844,000 square meters.