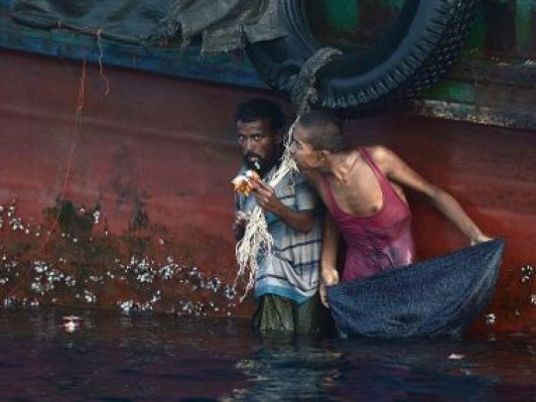 Thailand said Tuesday it had begun air reconnaissance missions looking for stranded migrant boats in the Andaman Sea, following criticism that regional nations were not actively searching for stricken vessels.
Thousands of Bangladeshi and Myanmar boatpeople are still believed to be stranded in the Bay of Bengal and the Andaman Sea after a recent crackdown on people-smuggling in southern Thailand prompted traffickers to abandon their ships or hide in international waters.
Thailand is hosting a May 29 regional meeting on a crisis that has seen more than 3,500 Bangladeshi economic migrants and stateless Rohingya Muslims from Myanmar arrive on Thai, Malaysian and Indonesian soil.
There have been reports of bodies being thrown overboard and people dying at sea, but the number of migrants who have died during the crisis is not known.
All three countries, as well as Myanmar and Bangladesh, have come under international pressure to provide immediate humanitarian relief to the migrants and address the root causes of the crisis.
The head of Thailand's airforce Tuesday said planes had begun flying up to 200 nautical miles from Thai territory and would concentrate their search on the waters off the country's southwestern shoreline.
"We have prepared eight aircraft from two units," Air Chief Marshal Jom Rungsawang said.
"We will work in close cooperation with (ground and sea) stations along the route that is used by migrant boats," he added.
Thailand's announcement came as the United States confirmed it had begun running reconnaissance flights off the western coast of Malaysia.
"The flights are consistent with our offer to assist governments in the region to improve their understanding of the situation in the Andaman Sea and Bay of Bengal," Melissa Sweeney, US embassy spokeswoman in Bangkok, told AFP.
Both the US and Thai flights appear to be concentrating on the Andaman Sea.
But the UN estimates around 2,000 migrants are still trapped farther north in the Bay of Bengal on vessels controlled by people-smugglers who were put off making the journey southeast but have refused to release their victims unless relatives pay a ransom.
The US has offered to launch reconnaissance flights over the Bay of Bengal and said it was "actively engaging" with local governments for permission.
Thailand has insisted that any US involvement in such flights would need to be under their command. General Worapong Sanganetra, Chief of Thailand's Defence Forces, said a US request to use their bases for flights was "under consideration".
Thailand has deployed a helicopter carrier to serve as a temporary medical and processing center for migrants found adrift. But unlike Malaysia and Indonesia, it has refused to offer migrant's refuge, saying any who land on its shores will be treated as illegal immigrants.