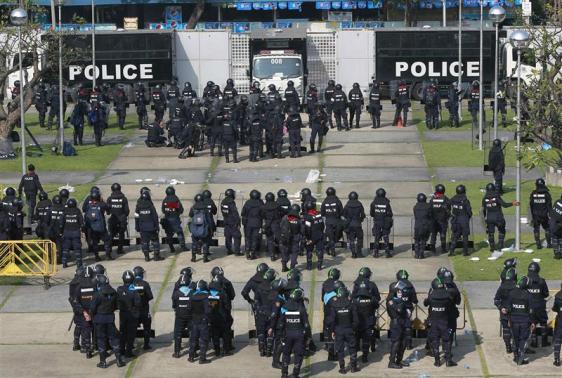 Thailand's military government has set up security centers around the country ahead of an August referendum on a new constitution, a spokesman for the government said on Monday.
The centers are the latest measure rolled out by the government as Thailand prepares to vote on a new constitution that critics fear will entrench the military's influence.
The draft of Thailand's 20th constitution is to replace one scrapped after a 2014 coup by generals who promised stability in Southeast Asia's second-biggest economy.
The August 7 referendum will be the first real rest of the junta's popularity since it took power.
A "Centre for Maintaining Peace and Order" has been set up in every one of Thailand's 76 provinces, said Major General Sansern Kaewkamnerd, spokesman for the Thai prime minister's office, in order to ensure "no cheating, no lobbying and no persuading people to vote one way or another."
Provincial governors will be responsible for assembling teams to join the center including police, troops and civilian volunteers.
"We need to ensure peace during the referendum so that people can decide how our country will move forward," Sansern told Reuters.
Last month junta chief Prayuth Chan-ocha and opposition supporters of ousted populist premier Thaksin Shinawatra both contacted the United Nations after an upsurge in political tension, just a day after police shut down an electoral monitoring center of the "red shirt" anti-government movement.
The red shirts say the centers are needed to prevent fraud.
Thanawut Wichaidit, a spokesman for the red shirt movement, accused the government of double standards.
"We weren't able to set up our monitoring centers so why should the military government be allowed to set up their centers?" Thanawut told Reuters.
"The military government is blindfolding the electorate and leading their hand to vote in the manner they want."
Under the proposed charter, a junta-appointed Senate with seats reserved for military commanders would check the powers of elected lawmakers for a five-year transitional period