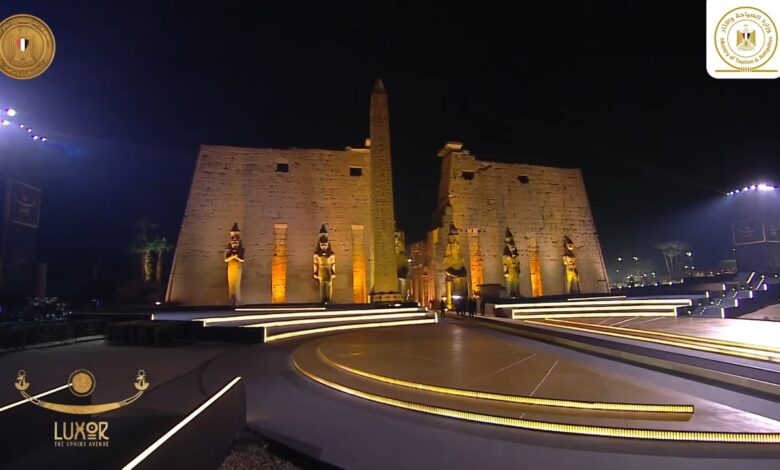 The Ministry of Tourism and Antiquities is preparing to organize an event on the occasion of the alignment of the sun on the Temple of Abu Simbel, on February 22, 2022, Khaled al-Anany, Minister of Tourism and Antiquities, announced.
He added that the ministry is studying the proposal of some investors to establish a walkway on the Rams Road in Luxor while fully preserving its archaeological features.
Anany said during a telephone interview with presenter Ahmed Moussa, on the "On My Responsibility" program on Sada al-Balad satellite channel: "We decided to organize an annual celebration on the Rams Road, while allowing tourists to visit it."
Events in other governorates are scheduled to stimulate tourism and increase archaeological awareness, Anany pointed out.
He explained that hundreds of millions of enthusiasts from around the world watched the Luxor celebration, saying, "Some friends told me that cafes outside of Egypt were showing the celebration," stressing that the celebration created a very important extravagant reaction.
He pointed out that a restaurant is scheduled to open at the pyramids of Giza area within weeks, making it more attractive for Russian and foreign tourists and for international newspapers to report about the advancements.
"Tourism is the responsibility of the entire state, not just the Ministry, so we have taken a decision to appoint a food safety quality monitor in each hotel, as it is a very vital step to ensure important health and measures," Anany said.
The ministry is also organizing a celebration on New Year's, stating, "That we intend to do a good job, God willing."
The world is talking about the climate conference to be held in Egypt in 2022 and is anticipating Egypt's ability to organize the conference well.
Tourism plans will continue along with the climate conference and the Ministry of Environment has made many great efforts in the field of green tourism, which includes several sectors, including transportation and aviation.
The ministry has intervened to gradually control the minimum rate for hotels rooms, raising the minimum for five-star hotels to US$50 as of May 1, and $40 for four-star hotels, he said.