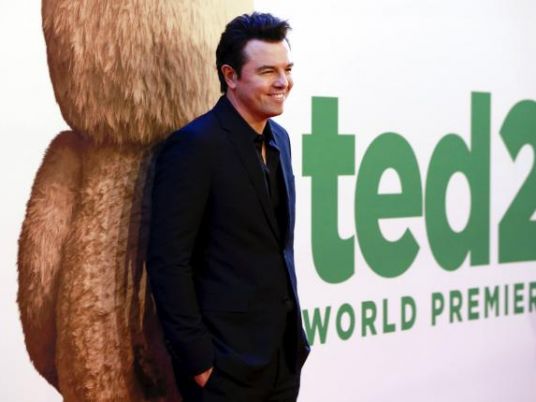 The party wasn't as wild the second time around.
Universal's "Ted 2" debuted to an underwhelming US$32.9 million across 3,442 theaters, roughly $15 million less than most analysts had expected the pot-smoking teddy bear comedy would bring in during its opening weekend.
The mellow-harshing start was largely attributable to the presence of two box office juggernauts in Disney/Pixar's "Inside Out" and Universal's "Jurassic World," which racked up $52.1 million and $54.2 million, respectively.
"Jurassic World" now ranks as the fifth highest grossing domestic release of all time with $500 million in stateside receipts, behind "The Dark Knight's" $534.8 million haul. It marks the third consecutive weekend that the dinosaur thriller has topped North American charts, and the fastest that a film has ever crossed the $500 million mark.
"It's forging new ground," said Nicholas Carpou, head of domestic distribution at Universal. "Every time we turn around there's a new milestone we're checking off."
With "Jurassic World" continuing to be an indomitable box office force, "Inside Out" took runner-up position for the second consecutive weekend. The critically heralded family film has earned a sizable $184.9 million since opening last weekend.
"Ted 2" got off to a more sluggish start than its predecessor, "Ted," which got things going with a massive $54 million start on its way to a $549.4 million global haul. Perhaps the plot, in which Ted tries to convince a court that he's a person so he can have a child with his wife, was too downbeat, or the post Deflate-gate Tom Brady cameo, proved more polarizing than tantalizing to audiences.
"This year, a lot of sequels are a bit more challenged, with the possible exception of some of the ones that we've had," said Carpou, noting Universal's "Furious 7" and "Pitch Perfect 2" buck that trend.
Whatever the case, it's a disappointment considering that many box office sages had predicted "Ted 2" would be the summer's biggest comedy. Media Rights Capital helped fund the $85 million production, which brought back original star Mark Wahlberg and director, co-writer, and vocal maestro Seth MacFarlane.
"Ted 2's" opening weekend audience was 49% under the age of 25, and 59% male.
The weekend's other new release, "Max," an uplifting drama about a military dog combined pooches and patriotism to the tune of $12.2 million across 2,855 locations. Shot for $20 million, the Warner Bros. and Metro-Goldwyn-Mayer co-production, was expected to open to roughly $10 million. Females accounted for 55% of tickets sold, while the audience was 57% over the age of 25.
The film did well in the South and the Mid-West, areas with a high percentage of military families, said Jeff Goldstein, Warner Bros. distribution executive vice president.
"The patriotic core audience in those places played a big part in its success," said Goldstein, adding, "This is the kind of movie that in the summertime can hang around and get a good multiple on its opening."
"Spy," the Melissa McCarthy espionage comedy, took fifth place with $7.8 million, bringing its total to $88.3 million.
In addition to "Max," Warner Bros. also fielded "Batkid Begins," a documentary about how thousands of volunteers banded together to make a 5-year-old leukemia survivor's wish to become a superhero for a day, a reality. The picture debuted in four locations, picking up $23,000.