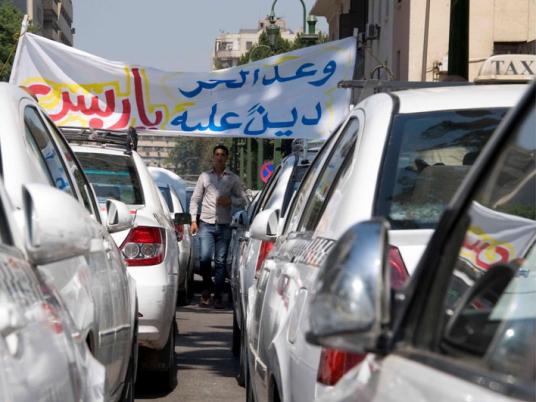 Dozens of gathered in Giza on Tuesday to protest against the growth of Uber and Careem, the leading companies providing private cars via smartphone applications as an alternative to registered as taxis.
The drivers gathered in Mostafa Mahmoud Square in the Mohandesseen neighborhood, blocking roads entering and leaving the square.
The protest caused congestion in surrounding areas, including Gamet al-Duwal al-Arabiya Street, Batal Ahmed Abdel Aziz Street, and Sudan Street, with police pleading with the drivers to allow traffic through.
Taxi drivers argue that both Uber and Careem are operating illegally by using private cars rather than vehicles registered as taxis, and the companies have an unfair advantage in that they pay less tax.
Uber, now active in more than 300 cities globally, launched in Egypt in April 2015, managing to lure hundreds of thousands of customers away from the normal taxi services. In addition to Egypt, Uber has been criticized by taxi drivers across the world.
Careem, which launched in July 2012, before expanding to Egypt shortly after, now covers at least 13 countries, mostly in the Arab World.
Egyptian taxi drivers complain that their profits are being undermined by the fast-expanding services and have demanded that the government step in to protect them.
For Cairo residents, hailing a cab is not always easy. There are problems with meters giving incorrect fares, drivers taking longer routes to push up the price, drivers smoking heavily, not to mention sexual harrassment.
Very often, cab drivers refuse to pick up potential customers in the first place, saying the destination is inconvenient.
"The white taxis are a nightmare," Heba Hashem, a 23-year-old graphic designer told Egypt Independent.
"Their service is irritating, drivers don't use the meter, they break it or overcharge for the fare. Moreover, they sometimes pick more than one customer at the same time to get more money."
Such problems have prompted many passengers in Egypt to switch to Uber and Careem mobile applications, which allow people to order a private car to any destination. Drivers pick customers up from their desired location, and many feel they're getting a better service, including honest fares and comfortable cars.
Speaking to Al-Borsa newspaper, Careem CEO Hadeer Shalabi said earlier in February the company is registered as a technological company, and has its own tax registration, meaning that it pays tax on its overall revenues.
However, she said the company is willing to pay additional taxes as a registered taxi service if the government requires them to do so.