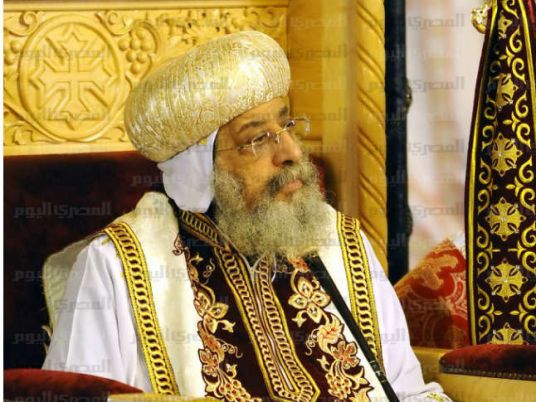 The leader of the Egyptian Coptic Church, Pope Tawadros II, led on Sunday the mass at the Egyptian church in Jordan's capital Amman.
The mass was attended by the Egyptian ambassador to Jordan, Tareq Adel, Bishop Antonios of Jerusalem and the Near East, Bishop Amonios Adel and several others. The pope's secretary was also present, in addition to bishops and priests of various Amman churches.
In his sermon, Tawadros thanked King Abdullah II of Jordan for the generous hospitality that he and the accompanying delegation have experienced since arriving in Amman.
"I bring the warmest greetings from Egypt to our host King Abdullah. It is a pleasure to be here with you," the pope said.
The pope and the delegation arrived in Jordan on Saturday following an invitation from King Abdullah. The visit is the first for the pope to Jordan since he became the head of the Coptic Orthodox Church in November 2012.
During the visit, Tawadros will visit Coptic churches in Jordan and will meet the Egyptian community there, said Boulous Halim, the spokesperson for the Church.
Edited translation from MENA