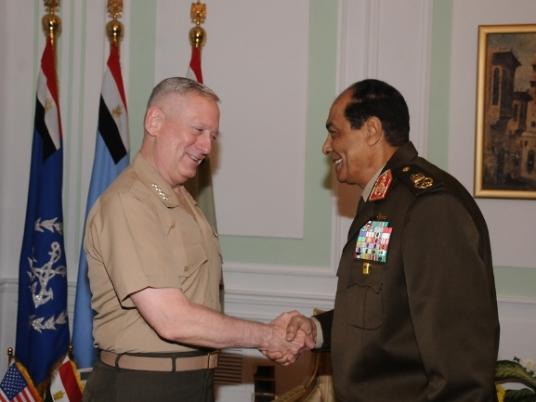 Field Marshal Hussein Tantawi met with Commander of the US Central Command James Mattis and the delegation accompanying him on Wednesday.
They discussed the developments in the region and bolstering military cooperation between the two countries.
Sami Anan, chief of staff of the Armed Forces and deputy head of the Supreme Council of the Armed Forces, also met with Mattis. They discussed several issues of common interest between the millitaries of the two countries, according to the state-run news agency MENA.
A number of Armed Forces leaders and US Ambassador to Egypt Anne Patterson also attended the meetings, MENA reported.
Saudi papers on Wednesday reported that Mattis and his delegation met with Saudi Crown Prince Salman bin Abdul Aziz, as well as the deputy prime minister and defense minister.
On Monday, the Pentagon said Defense Secretary Leon Panetta accepted Mattis' request to move a group of aircraft carriers to the Gulf.
A Pentagon spokesperson said the decision to move the carriers has security dimensions related to Syrian and Iranian threats.