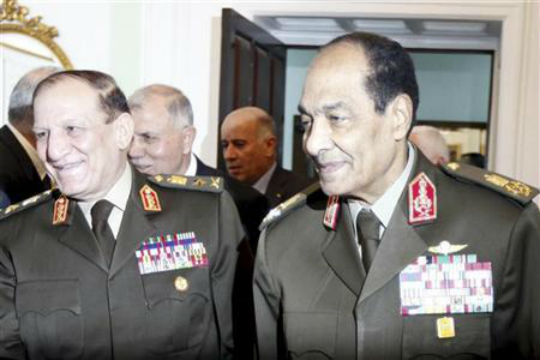 A public military funeral procession for Zakaria Mohieddin, a member of the Free Officers Movement and of the 23 July Revolutionary Command Council, was attended by the head of the Supreme Council of the Armed Forces, Field Marshal Hussein Tantawi, Chief of Staff of the Armed Forces Sami Anan and a number of senior officers in the armed forces.
The funeral on Tuesday at the Armed Forces' Aal Rashdan Mosque in Nasr City, located in east Cairo, was attended by the deceased's family as well as a number of officers and soldiers from the armed forces who came to bid farewell before the body was placed in its final resting place.
The funeral was also attended by Prime Minister Kamal al-Ganzouri, Minister of Military Production Ali Sabri, and a delegation of officers from the Police Academy.
Mohieddin passed away on Tuesday morning at the age of 94. During his life, he had been appointed to a number of important leadership positions including the director of military intelligence, prime minister and vice president during the reign of former President Gamal Abdel Nasser.
Mohieddin was head of the first Intelligence body in Egypt, the Egyptian General Intelligence Directorate. He leaned towards liberal policies and was also the head of the Egyptian Greek Friendship Committee.
A number of Egyptian presidential candidates came to extend their condolences, including Hamdeen Sabbahi, former Prime Minister Ahmed Shafiq and former Foreign Minister Amr Moussa.
Edited translation from Al-Masry Al-Youm