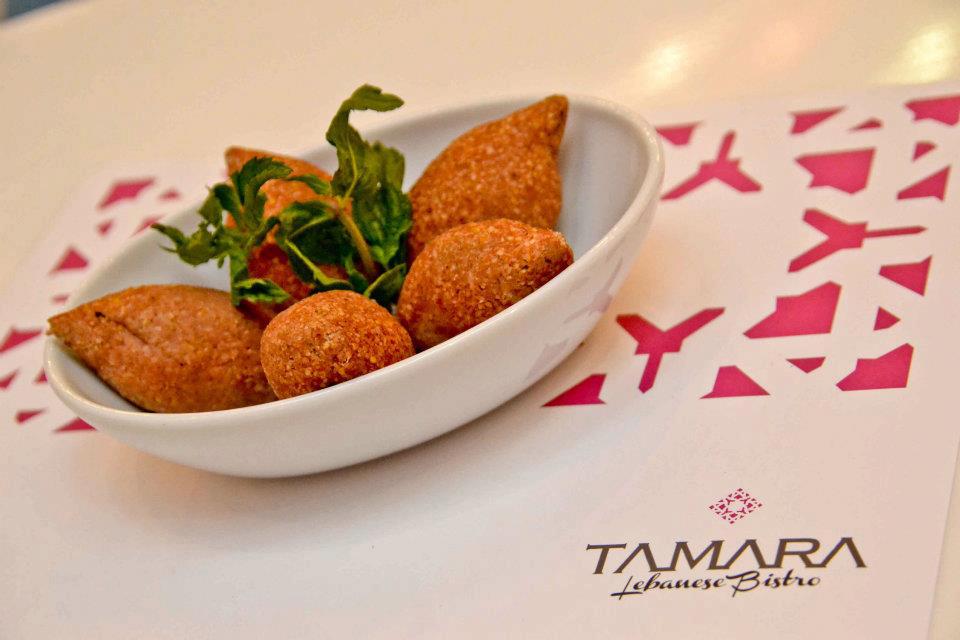 Tamara Lebanese Bistro in Citystars mall has one of the best menus for Lebanese cuisine in the city. Although still new in town, this contemporary eatery is always busy, so waiting is inevitable for all its customers.
The spacious, two-level restaurant is welcoming and warm. Its light color scheme is pleasant to the eye and the chairs are comfy, though the tables are a little too small. The ventilation falls a little short in defusing the large quantity of shisha fumes inside the eatery, but still, the air is relatively fresh and clear.
The menu for cold mezzes is inclusive, and Tamara offers a wide variety. The fattoush is good — the vegetables are crisp and generously seasoned. The safayeh jebn (cheese pastry) is fresh and tasty, and the dash of cumin on the halloumi cheese adds a pleasant, zesty zing.
The maqanek, or Lebanese sausages, are out of this world. The chili and pomegranate molasses gives the sauce an incomparable, mouthwatering taste. The tarama, or caviar paste, is tasty, served with batarekh (cured fish roe) slices and fresh shamy bread. The stuffed grape leaves and the mini shawermas are flavorsome and highly recommended.
The mixed grill and kebab comes with an ample amount of vegetables and spices, which gives the meat a unique flavor and the juice needed to make it tender. The chicken fatteh is done the Lebanese way, with garlic, hummus and yogurt, and rice is added on the side to accommodate the Egyptian palate. The blend is light and tasty — definitely a must-try.
The service is fast and efficient, and the waiters are friendly and knowledgeable. Because of the small table size, a plate of tarama fell on the floor, but it was replaced in less than three minutes. When we thanked our server and said we were full, he quickly gave us a takeaway box and placed it next to us, and the extra appetizer wasn't added to the bill.
The Oriental dessert is simply heavenly. The combination of pistachio and mastic ice cream with halawa shaar, Oriental cotton candy, is a seemingly contradictory yet pleasantly surprising mix.
Everything about Tamara is agreeable, including the prices. The average price of an appetizer ranges between LE25 – 40, while prices for main courses can go up to LE65.
Tamara is definitely recommended. The food is amazing, the atmosphere is pleasant and welcoming, and the prices are very affordable.
Tamara Lebanese Bistro; Address: Citystars mall, Heliopolis; Tel.: 012-0000-6066; Hours: 12 pm–12 am daily.
This piece was originally published in Egypt Independent's weekly print edition.