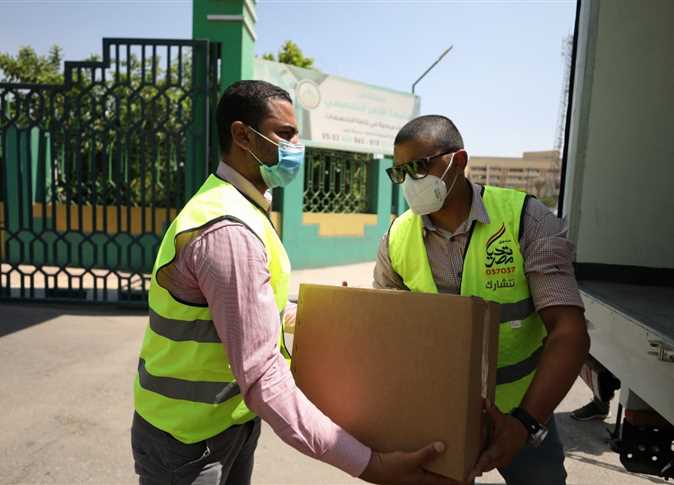 The Tahya Misr (Long Live Egypt) fund announced Sunday that it aims to distribute large amounts of medical supplies to government hospitals across Egypt, including up to 40 ventilators, 300,000 surgical face masks, 500,000 N95 and kn95 face masks, 16,000 isolation suits, 10,000 liters of disinfectants and 15 million pairs of medical gloves.
The fund on Sunday distributed disinfectants and other supplies to medical teams at the Al-Azhar Specialized Hospital in Cairo Governorate, the Beni Mazar Chest Hospital in Minya Governorate, and the Aswan Fever Hospital.
The Al-Azhar Specialized Hospital received 11,200 surgical masks, 1,100 kn95 masks, 600 isolation suits, 345 liters of disinfectants, and 11,200 pairs of medical gloves, while the the Aswan Fever Hospital received 22,400 surgical masks, 1,750 kn95 masks, 1,200 protective isolation suits, 495 liters of disinfectants and 5,000 pairs of protective gloves.
And the Beni Mazar Chest Hospital was given 2,500 surgical masks, 350 kn95 masks, 45 liters of disinfectants, and 5,000 pairs of medical gloves.
This comes under the fourth phase of the fund's "We Share … We will overcome this crisis" initiative launched to support governmental agencies battling the coronavirus outbreak.
The Executive Director of the Tahya Misr Fund, Tamer Abdel-Fattah, said that the fourth phase, which started last week, includes providing medical supplies for isolation and fever hospitals in eight governorates: the Al-Ahrar Teaching Hospital in Sharqiya Governorate, Qasr al-Aini, the Al-Azhar Specialized Hospital, and the Sheikh Zayed, al-Agouza, Zefta General, Aswan Fever, Assiut Chest, Sohag General, and Beni Mazar Chest hospitals.
Abdel-Fattah added that on Thursday 42,400 surgical masks, 6,500 kn95 masks, 2,000 protective isolation suits and 600 liters of disinfectants were provided to the isolation departments in the Sheikh Zayed Al Nahyan Hospital and the Zefta General and Agouza hospitals.
The fourth stage's goal is to provide the largest number of isolation departments at hospitals with the necessary medical supplies, he said.
The initiative's main pillars are to support the medical sector, the most vulnerable groups and irregular workers. Through its phases, the initiative has delivered 6,600 tons of food, including 170 tons of meat, 150 tons of poultry and 160 tons of vegetables, to over half a million vulnerable families, in cooperation with the Ministry of Social Solidarity and civil society organizations.
Edited translation from Al-Masry Al-Youm