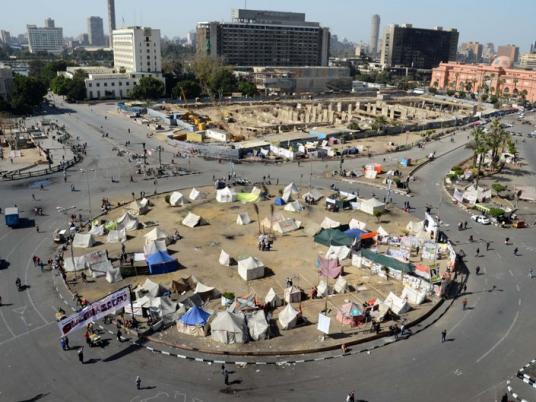 Protesters have once again closed all of Tahrir Square's entrances, after refusing to reopen the square in response to the Interior Ministry setting a timeline for taking down concrete walls downtown.
Popular committee members placed metal barriers across all entrances, including next to the Egyptian Museum and in front of Mohamed Mahmoud, Falaky and Qasr al-Nil Streets and the Qasr al-Nil Bridge entrance.
Protesters had initially agreed to reopen the entrances in response to the ministry's announcement regarding a timeline to dismantle the walls that block traffic on several streets downtown. However, they later reneged, fearing that assailants would infiltrate the square and attack protesters.
However, calm prevailed in the square Saturday after demonstrations took place there Friday, demanding the release of political prisoners, the dismissal of the prosecutor general and that members of the Muslim Brotherhood be brought to trial.
Only a few protesters took part, with many others staying in their tents.
The area around Ettehadiya Palace was also calm, and in the absence of protesters security forces were only visible behind the palace on the Korba Square side.
Traffic flowed normally on Marghany Street and other streets surrounding the palace.
Edited translation from MENA