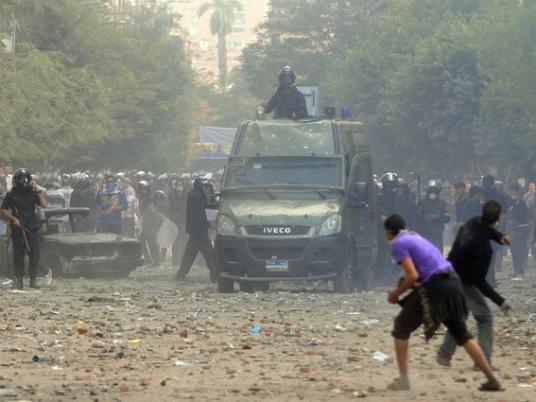 A protester who was injured during confrontations with police on Mohamed Mahmoud Street last week died on Wednesday, bringing the official death toll from the clashes to 43 nationwide.
Ahmed Badawy, 39, was injured when a shotgun pellet penetrated his stomach and a rubber bullet hit his leg. During earlier protests on 28 January he was also hit by a diplomatic vehicle on Qasr al-Aini Street.
The victim's family has not yet decided whether they will hold Badawy's funeral at Omar Makram mosque in Tahrir Square or in his home neighborhood of Kerdasa.
On 19 November, police tried to forcibly disperse about 200 protesters in Tahrir Square, prompting renewed clashes that lasted through most of last week. Police used tear gas and rubber bullets in an attempt to control the growing crowd, injuring thousands across the country.
The Health Ministry has also confirmed that protesters were killed by live ammunition.
The public prosecution has postponed investigations with Interior Ministry officials into the clashes due to security concerns surrounding parliamentary elections.
Translated from the Arabic Edition