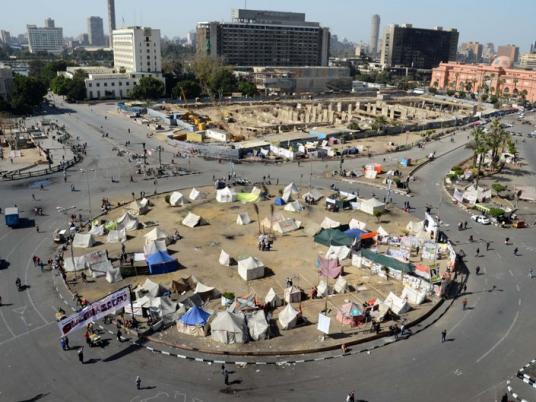 Calm returned to TahrirSquare Tuesday morning after two hours of skirmishesbetween protesters and police.
Police were trying to reopen the square to traffic, and security forces managed to remove protester tents and street vendor stands despite staunch resistance.
Cars gradually started to flow into the square as protesters moved their sit-in to the central island. However, the Qasr al-Aini and Talaat Harb Street areas remain closed.
Employees also resumed work at the Mugamma administrative building overlooking the square. Several youths attempted to shut the building down once again but were pushed away by employees and other bystanders.
Gamal Abel Aal, director of Cairo's investigation police, told Al-Masry Al-Youm that police have managed to open Abdel Moneim Riyad and Qasr al-Nil Streets but did not approach protesters or their tents. He also claimed that 55 have been arrested in possession of arms, and that "protesters attacked police with [Molotovs] and damaged two security vehicles."
Protesters in the square have been staging a sit-in since 25 January, when opposition groups marked the second anniversary of the 2011 revolution with demonstrations against the incumbent regime. Protesters have occasionally hindered activities at the Mugamma and subway traffic at Sadat metro station since then.
Edited translation from Al-Masry Al-Youm