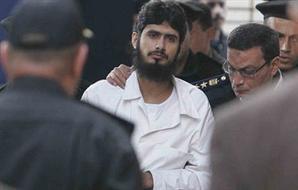 The South Sinai Court on Wednesday adjourned to 12 September the retrial of 13 defendants charged with involvement in the 2004 Taba bombings.
Eight of the accused who were previously sentenced to life imprisonment escaped from prison during the 25 January revolution. Of the remaining five, three were sentenced to death and two to life imprisonment.
The bombings in Taba, a city overlooking the Gulf of Aqaba in the Sinai Peninsula, took place in October 2004, killing 34 people. The State Security Emergency Court heard the case in 2006.
The government announced in February that the accused would be retried before a criminal court.
Egyptian authorities say that the Tawheed and Jihad group was behind a series of bombings in Sinai, the first of which took place on 7 October 2004 in a Taba resort near the border with Israel. Subsequent bombings took place on 23 July 2005 in Sharm el-Sheikh and on 24 April 2006 in Dahab.
Edited translation from Al-Masry Al-Youm