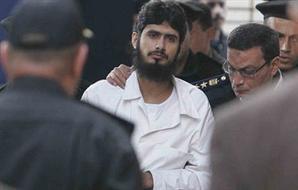 Five defendants in the Taba bombings case have started a hunger strike to protest the continued postponement of their case before the Supreme State Security Court, according to their families.
According to the defendants' families, the cases have been pending since the formerly ruling Supreme Council of the Armed Forces refused last year to ratify capital punishment and life in prison sentences handed down under former President Hosni Mubarak. Three people were sentenced to death and 10 more to prison terms for the 2004 bombings in Taba, which killed 34 people.
They added that the judges considering the defendants' cases decide every session to adjourn the case for another three months, while keeping them in prison. The judges continually reject the defense's requests to release them, even though they have surpassed the maximum legal period of detention. Some of the defendants have spent close to eight years in prison.
The Supreme State Security Emergency Court sentenced three to death and 10 to imprisonment in 2006, but the SCAF-led government cancelled the verdict in February and ordered a retrial.
The last session was 12 September, when the case was adjourned to 12 December.
The prisoners, Mohamed Hussein, Younes Abu Grir, Osama al-Nakhlawi, Mohamed Suleiman and Mohamed Abu Grir, all come from North Sinai.
Edited translation from Al-Masry Al-Youm