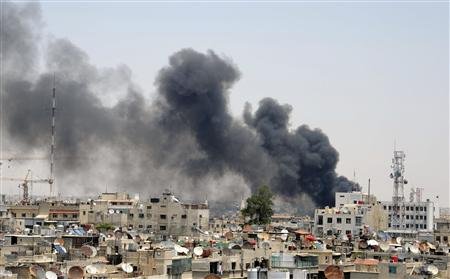 Syrian TV says the country's national security chief has died of wounds suffered in a rebel blast.
General Hisham Ikhtiyar is the fourth member of President Bashar al-Assad's inner circle to die in Wednesday's bombing that targeted security chiefs meeting in the national security headquarters in Damascus.
The TV report said Thursday that Ikhtiyar died in a Damascus hospital.
The others killed in the blast were General Assef Shawkat, the deputy defense minister who was married to Assad's elder sister, Defense Minister Dawoud Rajha and Hassan Turkmani, a former defense minister.
Syrian activists say 310 people were killed across the country on Thursday in what was the single deadliest day of fighting since the beginning of the revolt against Assad's regime.
Syria's civil war escalated dramatically in the past week as rebels closed in on the capital Damascus and launched their most serious blow yet on Assad's inner circle, killing four top aides in an assassination.
The Britain-based Syrian Observatory for Human Rights said Friday at least 93 of those killed Thursday were government troops.
The Local Coordination Committees, which documents civilian deaths, said 217 civilians were killed Thursday.
Death tolls are difficult to verify in tightly controlled Syria which places severe restrictions on journalists.
Syrian TV said troops recovered control of a rebellious neighborhood in Damascus Friday.
Iraq is evacuating hundreds of its citizens from Damascus by air as officials say clashes between Syrian soldiers and rebels have left land routes too dangerous.
Iraqi Airways Captain Saad al-Khafaji said 750 Iraqis have been flown out of the Syrian capital since Thursday. Two more flights of evacuees were expected Friday.
Over the last 24 hours, an estimated 3,000 Iraqis have poured over the main border crossing between Iraq and Syria. Rebels seized control of at least one crossing on Thursday.
Mohammed Fathi, a spokesman for Iraq's western Anbar province, said the Red Cross was setting up tents and distributing medical supplies for refugees Friday at the al-Walid crossing, an estimated 600 kilometers (373 miles) from Baghdad.
Officials said rebels held the border crossing at Qaim, north of Al-Walid.