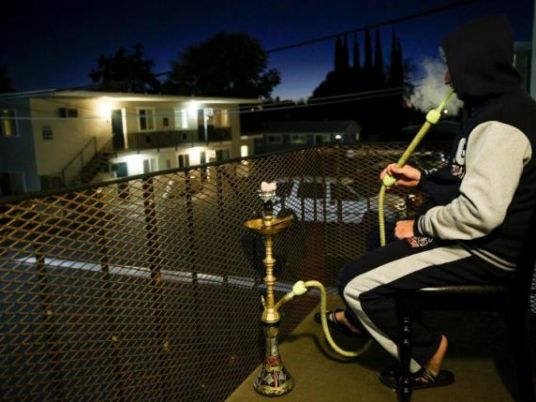 They share a small two-bedroom apartment in Sacramento with few possessions, but for Syrian refugee Mohammad Abd Rabboh, his wife and two daughters, there is finally freedom from fear.
Just six weeks after arriving in the United States, the girls are in school and no longer screaming in the night. Their mother, Dania, is not afraid for the first time in years to go outside.
"We witnessed things that are difficult to describe," Rabboh, 36, told Reuters, speaking in Arabic through an interpreter. "You walk in the street and someone falls dead right in front of you."
Theirs is a story that could be easily lost in the US political backlash against Syrian refugees that has been stirred by reports one of the militants involved in last Friday's deadly attacks in Paris may have hidden among the migrant flow.
The family's experience – terror and danger at home, followed by profound relief and a sense of security in the United States – is emblematic of what refugees go through, immigration experts say.
The Rabbohs are among a small group of about 1,700 Syrian refugees already admitted to the United States, including 179 in California, 189 in Texas, 179 in Michigan, and 111 in Pennsylvania.
US President Barack Obama has pledged to take in 10,000 Syrian refugees next year, following the rush of hundreds of thousands of Syrians into Europe from a country beset by civil war between President Bashar al-Assad's government and rebels, and advances by the Islamic State militant group.
But Obama's plan faces stiff resistance from Republicans in Congress and on the presidential campaign trail following the killing of 129 people in Paris in an attack claimed by Islamic State.
Governors of some 26 US states, most of them Republicans, have said they would not accept new arrivals, citing security concerns.
Relief agencies worry about the fallout from such concerns and whether it will make parts of the United States less hospitable to arriving refugees who do make it the country.
"We have to be vigilant but we also need to have our heads on our shoulders and not just be ruled by fear," said Debra DeBondt, who heads the refugee agency Opening Doors, which last year helped settle 400 mostly Middle Eastern refugees, including five Syrian families, in Sacramento.
Kamal Mahrous, who moved his family to Houston from Damascus last January after spending a year in Egypt and undergoing an FBI security check, said being Muslim was not synonymous with being a member of Islamic State or the Al-Qaeda-linked Nusra Front.
"We are Syrian people," he said. "We are not ISIS, not Jabat al-Nusra, not the Assad regime. We are people."
No more nightmares
The Rabboh family fled its home in the old quarter of the besieged city of Homs in western Syria amid devastating violence more than three years ago, only to begin what Rabboh calls "years of suffering" in Jordan before a relief agency brought the family to Sacramento on September 29.
Their apartment contains a couch and loveseat, small dining table and three beds, two pushed together in a bedroom for Sally, 7, and Leen, 5. Atop the refrigerator is a box of Froot Loops cereal. In the kitchen, Rabboh assembles the parts he needs to put together a hookah to share tobacco with guests on a tiny balcony.
Sally, wearing a pink fleece jacket emblazoned with the words "Girl Champion," is already picking up English, and says she wants to be a doctor when she grows up.
For four years, her parents say, she woke up screaming every night, wetting the bed in her terror. Two weeks after resettling in the United States, the night terrors stopped, along with the bed-wetting.
"She feels relaxed here – safe," Dania, 29, said of the second-grade student. Leem, whose name means "soft" in Arabic, was too small to remember the fear and violence that marred their lives in Homs. But while the family tried to shield Sally from the war, that soon became impossible, Dania said.
"She remembers everything," said Dania, who had been studying English literature until the streets of Homs became too dangerous for her to venture out to class.
"She says: 'Remember, Mommy, when they knocked at the door? Remember when they shot the bullets?'"
The tiny Syrian community in Sacramento is working to integrate the Rabbohs into the city. The California capital, a metropolitan area of about 2 million people, has taken in more than 1,000 refugees, mostly from Afghanistan and Iraq, over the past year.
The 15 families of Syrian descent already living in Sacramento when the refugee crisis began have been working with the broader Middle Eastern and Muslim communities to find apartments and donate furniture and clothing for refugee families, said a Syrian-born physician helping to resettle families.
Once here, they face challenges beyond learning English and looking for work, said the physician, who asked to be identified by only his first and middle names, Mohammad Jaber, out of concern for relatives in Syria.
"So many things that we take for granted, people cannot imagine how to do," he said. "Even something as simple as making a doctor's appointment."
As he helps others resettle, the physician also worries about his brother, who is still in Syria with two young children, and trying to get out.
Rabboh, an inventor who holds three patents on machines that make candy wrappings, faces a steep learning curve in the United States. His first priorities are to learn English and look for work.
But being in America has given him optimism about his family's future for the first time in years.
"When I came here, the first day, I didn't feel like a refugee any more," he said. "I felt like an American citizen."