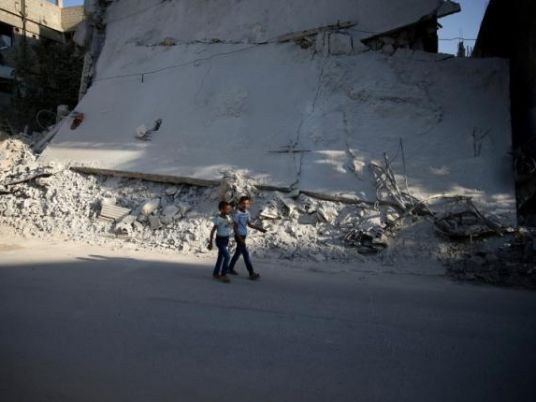 At least 11 civilians were killed and a school day violently interrupted amid intensive Syrian government shelling of a rebel-held enclave north of the capital Damascus Sunday, sending panicked kindergarten children scurrying for shelter, opposition activists reported.
The Britain-based Syrian Observatory for Human Rights and the Eastern Ghouta Media Center said those killed in the Saqba and Hamouriyah districts include two women, one child and a media activist. The Ghouta Media center said the media activist worked for the local al-Jisr TV.
In a video posted by the Ghouta Media Center, kindergarten children were seen running in the streets of Kfar Batna, another village in the area that was shelled. Panicked children were scattered in the small rural streets of the village, some in tears while others called out for their parents. Rescuers struggled to escort the children out of the area covered in a cloud of dust following the explosions.
The first-responders group in the Damascus suburbs, the Syrian Civil Defense, also known as the White Helmets, reported that two shells fell in a school in the center of the village, injuring several. Baraa Abdurrahman, a resident of Kfar Batna, said the shells fell in a street that has a couple of schools. He added that six were injured.
Eastern Ghouta, north of Damascus, is part of a de-escalation zone declared earlier this year in Syria. But violence amid a tight government siege has persisted in the area, which has faced intense government shelling for four years.
Images of starving children and adults emerged from the Ghouta suburbs, one of the hubs of the 2011 uprising against President Bashar Assad's rule, prompting UN officials to say the area is facing a humanitarian crisis.
Syria's state TV also reported Sunday that one person has been killed and several others injured in east Damascus after shells fired from rebel-held areas landed there.
Meanwhile, Doctors Without Borders said Sunday that fighting between Iraqi forces and Kurdish fighters near the border threatens the delivery of humanitarian aid to half a million newly displaced civilians in northeastern Syria.
The medical charity, also known as MSF, said it is "extremely concerned" because the fighting threatens its only cross-border supply routes between the two countries.
Scattered clashes have erupted in recent weeks as Iraqi forces have retaken disputed territory from the Kurds, part of a crisis sparked by last month's Kurdish vote for independence. Federal forces have sought to regain control of the country's borders from forces loyal to the Kurdish regional government.
The Fishkhabur crossing is the only gateway for residents, aid workers and journalists to enter northeastern Syria. A nearby crossing, used for commercial traffic, was closed on Thursday due to fighting in Iraq, and has yet to reopen.
US officials say the fighting has also hindered the movement of military equipment and supplies in Syria and Iraq, where Iraqi, Kurdish and other allied forces are battling the Islamic State group.
A Kurdish official on the Syrian side of the border said access for aid workers and journalists has not been affected. The official spoke on condition of anonymity because he was not authorized to brief reporters.
"It is already very complicated trying to provide aid in North-East Syria where large parts of cities have been destroyed by fighting and airstrikes and nearly 500,000 people have been displaced and are living under poor conditions," MSF said in a statement.
"If the border between Syria and Iraq closes for humanitarian aid, the millions of already vulnerable people will no longer have access to critical medical care."