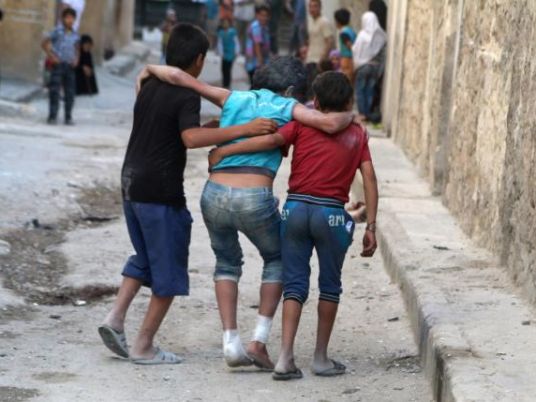 The Syrian army backed by Russian air strikes has opened a major new front against Islamic State, the third big assault on the self-proclaimed caliphate this week after Iraqi forces attempted to storm a city and a Syrian militia advanced with US support.
The week's three big offensives are some of the most aggressive campaigns against Islamic State since it declared its aim to rule over all Muslims from parts of Iraq and Syria two years ago. They signal apparent new resolve by the group's disparate foes on a range of fronts.
Heavy Russian air strikes hit Islamic State-held territory in eastern areas of Syria's Hama province, near the boundary of Raqqa province on Friday. Raqqa city, further east, is Islamic State's de facto capital in Syria and, along with Mosul in Iraq, the ultimate goal of those seeking to destroy the group's rule.
The Syrian army had advanced some 20 km and was now near the edge of the provincial boundary, according to the Syrian Observatory for Human Rights, a group that monitors the war.
Separately, US-backed militias, including a Syrian Kurdish force called the YPG and new Arab allies recruited to fight alongside it, have been pressing a multi-pronged attack against Islamic State in other parts of Raqqa province and neighboring Aleppo province.
This week, they began a push toward the city of Manbij near the Turkish border, aiming to seize the last 80-km stretch of Turkish-Syrian frontier under Islamic State control and cut the group's main external link for manpower and supplies.
The US military said on Friday its allies were advancing against heavy resistance from Islamic State. If successful, the Manbij campaign would free 40,000 civilians from Islamic State control.
The YPG and its Arab allies, who formed the Syria Democratic Forces (SDF) last year, have proven to be the first force in Syria allied to the United States that has been effective in fighting against Islamic State.
The SDF has taken 28 villages from Islamic State in its push toward Manbij, the Syrian Observatory said, and had freed more than a dozen women from the Yazidi minority who were taken by Islamic State fighters from Sinjar in Iraq.
US President Barack Obama has authorized several hundred special forces troops to operate in Syria, some of whom are deployed as advisers in the latest advance.
The Kurdish fighters' progress has been limited in the past by Turkey, which considers them enemies. But Ankara has signaled its tacit support for the latest advance, saying it understands most fighters involved will be Arabs, not Kurds.
'Race for Raqaa'
The Syrian army's new offensive was described in a pro-Damascus Lebanese newspaper as part of "the race for Raqqa" — with the government and its Russian allies trying to advance on Islamic State's de facto Syrian capital before it falls to the fighters allied to the Americans.
A Syrian military source played this down. Reports the offensive targeted Raqqa were only "expectations", he said, and both Raqqa and Deir al-Zor, another Islamic State-held city in eastern Syria, were possible targets.
Syrian government warplanes killed at least 15 people in air raids on the town of al-Boulil in the eastern province of Deir al-Zor on Friday, the Syrian Observatory said, saying four women and a child were among those killed.
Whatever its ultimate target, the offensive appears to be the biggest Damascus has mounted against Islamic State since it recaptured the city of Palmyra with Russian support earlier this year. In the past, the United States has accused Assad and his Russian backers of ignoring Islamic State to take on other foes.
Islamic State's brutal rule, featuring mass killings, forced conversions and rape, has made it the enemy of all global powers and regional countries. But five years of civil war in Syria, a feeble Iraqi state and global and sectarian rivalries among outside powers have made it impossible to coordinate a single campaign against it.
In Iraq, government troops supported both by US-led coalition air strikes and Iranian-backed Shi'ite militia, poured into the southern outskirts of the Islamic State bastion Falluja on Monday. They have since held their positions for four straight days without advancing into the main built-up areas of the city.
Iraq's finance minister acknowledged in an interview that Falluja, where the US military fought the biggest battles of its own 2003-2011 occupation, was a "tough nut to crack". The assault would go slowly to protect thousands of civilians still trapped in the city, he said.
Falluja is Islamic State's second-largest bastion in Iraq and closest outpost to Baghdad. But the decision to mount an assault there was not in keeping with the plans of Washington, which would prefer that the Baghdad government focus on recapturing Mosul instead.
Fighting in Falluja risks the army becoming bogged down in territory inhabited by Sunni tribes long hostile to the Shi'ite-led government. However, Shi'ite militia and political parties have pressed Prime Minister Haider al-Abadi to attack the city to bring an end to suicide bombings in the capital, an hour's drive away.
In Syria, state media said the army had made territorial gains and inflicted heavy casualties on Islamic State fighters in the Athriya area of eastern Hama province, close to the provincial border with Raqqa.
"There is progress from Athriya on two fronts, but the coming direction is not set," the military source said, adding that it could be either Raqqa or Deir al-Zor, which is on a main route linking Islamic State's Syrian and Iraqi territories.
The army was focused on eastern and northern areas of both Homs and Hama provinces, he said. Hama borders Raqqa province; Homs borders Deir al-Zor.
The Lebanese newspaper al-Akhbar said the first aim was to capture the town of Tabqa, site of an air base and major Islamic State arsenal some 50 km west of Raqqa city, and put "a foot in the area without leaving it completely to the Americans' allies".