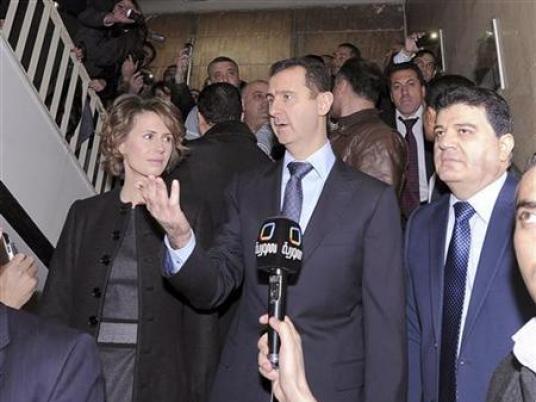 BEIRUT
— A suicide car bomb tore through the parking lot of a military compound in Syria's eastern city of Deir el-Zour on Saturday, the latest in a wave of blasts targeting security agencies in recent months, the country's state media reported.
State TV said the blast caused casualties, and showed footage of damaged buildings, smoldering cars, and trucks turned upside down by the blast. Debris filled a street that was stained with blood. The station said UN observers based in the city visited the site of the blast.
Foreign Ministry spokesman Jihad Makdissi posted on his Twitter account that seven people were killed and 100 wounded in the blast. He said the bomb weighed 500 kilograms.
The state-run news agency SANA said the blast hit the parking lot of a military residential compound. An opposition group, the Britain-based Syrian Observatory for Human Rights, reported that the site of the explosion was close to the city branches of the Military Intelligence Directorate and Air Force Intelligence.
Security agencies in several Syrian cities have been targeted by a wave of explosions since late last year, raising fears that Al-Qaeda-linked Islamist militants, possibly including fighters from neighboring Iraq, have made strong inroads into Syria's rebel movement.
The most recent bombing targeted an intelligence building in Damascus on 10 May. It struck during morning rush hour and the high death toll — some 55 people — made it the deadliest such attack since the uprising against President Bashar Assad's regime began in March of last year.
Some of the tactics used in Damascus — a small blast drawing attention prior to a larger one — were reminiscent of Al-Qaeda attacks during Iraq's insurgency.
Deir el-Zour is about 100 kilometers from the Iraqi border. Saturday's blast came a day after the state-run news agency SANA reported that authorities foiled an attempt to blow up a car rigged with explosives in the city and detained those involved.
On Thursday, UN Secretary-General Ban Ki-moon said he believes that "alarmingly and surprisingly," Al-Qaeda must have been behind the 10 May attack in the Syrian capital.
"The recent terrorist attacks in Damascus suggest that these attacks were carefully orchestrated," he said. "Having seen the scale and sophistication of these terrorist attacks, one might think that this terrorist attack was done by a certain group with organization and clear intent. I have strongly condemned these terrorist attacks."