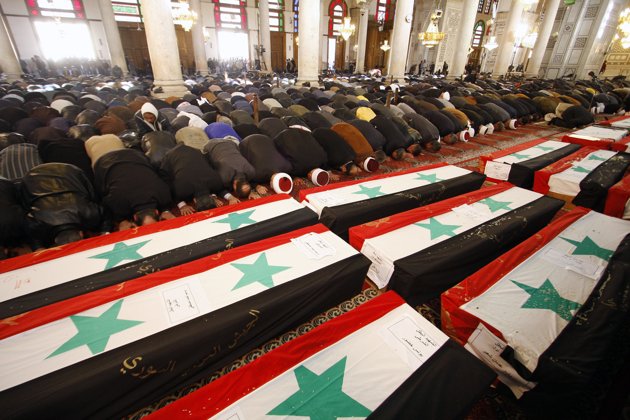 Syrian activists have accused regime forces of using a "toxic gas" during clashes in a flashpoint town southwest of Damascus, saying five men were killed.
A local activist group in Moadamiyet al-Sham, where hundreds died in August 2013 in chemical strikes, accused President Bashar al-Assad's troops of firing a toxic chemical at the town on Tuesday.
"The Assad regime again used chemical weapons against civilians in Moadamiyet earlier today, with regime warplanes dropping barrel bombs containing a so-far unidentified toxic gas on the south of the town," the group posted on Facebook.
"Five people have died so far as a result with others suffering severe breathing problems," it said in a statement.
It was not possible to verify the claim.
Photos and video footage posted by the group depicted men being carried into a chaotic field hospital as women wailed in the background.
Some of the men wore breathing masks while others had tubes that seemed to be removing blood from their lungs.
At least one man was wearing military-style fatigues.
A Syrian security source denied that armed forces had used chemical weapons on the town, calling the accusations "baseless".
"This is a cheap ruse and a broken record that they are using in an attempt to justify their defeats," he told AFP.
Moadamiyet al-Sham was the site of the infamous August 2013 chemical attack, which left hundreds dead and sparked a US-Russian agreement to strip Damascus of its chemical weapons.
It was one of several localities around Damascus where local ceasefires had brought relative peace for more than a year.
But fighting there has resumed in recent days, and the town has been struck by heavy shelling and barrel bombs, according to the Syrian Observatory for Human Rights.
The British-based monitoring group identified the five men killed as opposition fighters who clashed with the regime on Tuesday.
But it could not confirm if a toxic gas attack took place.
The Istanbul-based National Coalition opposition group also accused the regime of a chemical attack.
"Cases of suffocation between civilians in Moadamiya, rural Damascus, after being targeted with toxic gas by Assad," it wrote on Twitter.
More than 250,000 people have been killed in Syria since the conflict broke out in March 2011.