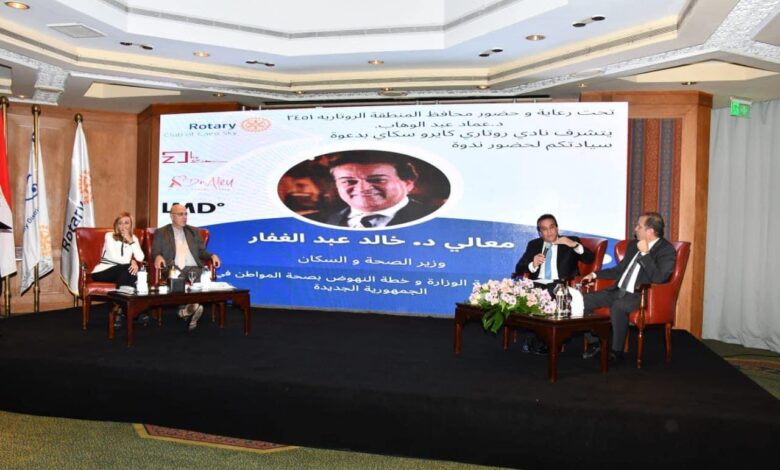 In an attempt to improve the efforts of the state in cooperation with civil society organizations in all vital sectors in the new republic, the most important of which is the health system, Rotary Club of Cairo Sky, headed by Ahmed Sabbour, organized a large symposium attended by a plethora of doctors, headed by Health Minister Khaled Abdel Ghaffar.
Other participants in the symposium were Chairman of the Rotary Medical Committee Hisham Shawky, Rotary Governor Emad Abdel Wahhab and former Governor of Rotary Sherif Waly.
Abdel Ghaffar explained the importance of providing medical services to citizens as a right guaranteed to them by the Egyptian constitution.
He said that Egypt population is increasing steadily and rapidly, but despite that, the state, through the ministry, provides distinguished medical services that can be compared to more developed countries such as the UK.
The ministry also focuses on the poor through activating the comprehensive health insurance system, starting with Port Said Governorate, he said, adding the comprehensive health insurance system is scheduled to be completed in 2030 to provide high quality services according to international standards.
The health insurance system is a project of solidarity in the sense that every citizen should benefit from it, he added.
Abdel Ghaffar appealed to the private sector to participate in the project due to its importance.
Abdel Ghaffar went on to say that one of the most significant things that the ministry has introduced is the preventive role of the citizen through psychiatry, which is currently present in most developed countries, because many diseases are the result of psychological disorders and thus are reflected in society, whether physically or psychologically, which lead to social problems, including divorce, autism and depression.
Abdel Ghaffar confirmed that there are huge projects in the process of being carried out, the most important of which is the development of the Nasser Heart Institute, which has been converted into an integrated medical city with all specialties, to be built on an area of ​​33 acres in the same area.
He added that the ministry is interested in the field of organ transplantation in order to keep pace with all developed countries, especially since all religions agreed to transplant organs after death.
Abdel Ghaffar concluded his speech by saying that there is remarkable progress in eradicating diseases, such as virus C, polio, and others through presidential initiatives that have proven successful.
The level of doctors and nursing staff have been also upgraded and health centers expanded in various governorates, especially in remote areas, he said.
The minister stressed the importance of the Rotary continuous, effective role in providing medical services in various ways, whether through medical convoys or through partnering up with charities to build hospitals and health units in the underprivileged areas.