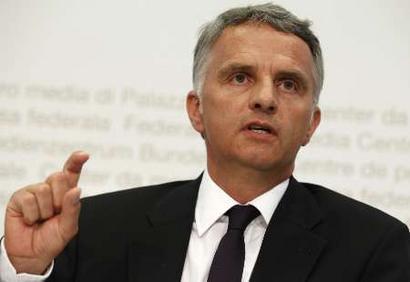 Switzerland is postponing the return of 700 million Swiss Francs (US$767 million) in funds smuggled out of Egypt by members of former President Hosni Mubarak's regime.
Switzerland's attorney general decided Sunday to delay the funds transfer because of the uncertain political situation in Egypt, according to Swiss official news agency SDA.
Egyptian authorities had requested Switzerland's judicial assistance in retrieving the funds that members of Mubarak's family smuggled there after the January 2011 uprising forced him to step down.
The recent decision by the Swiss attorney general supports an earlier ruling by the country's federal criminal court in December, which said Egyptian authorities were unable to provide legal documents relevant to Swiss criminal procedures against the Mubaraks because of its political instability.
Switzerland has embarked on legal procedures in the last two years to return large amounts of funds smuggled by deposed Arab leaders in Tunisia, Egypt, Libya and Syria.
The postponement comes after Egypt's Court of Cassation annulled Mubarak's life sentence on Sunday and ordered a retrial for him, his former officials and his two sons over multiple charges of murder and corruption.
Edited translation from DPA.