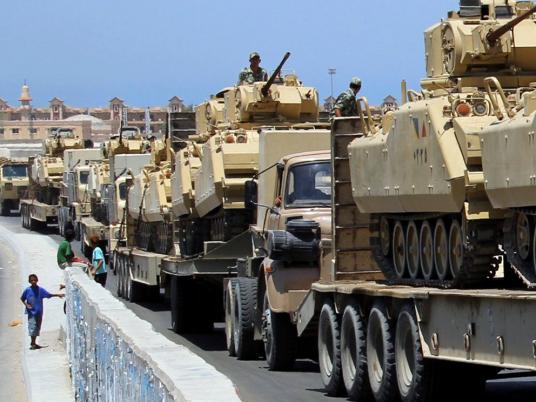 A suspect placed on security authorities' wanted list has denied links to the attack that killed 16 Egyptian security officers at a checkpoint near the Israel border on 5 August.
Karim Abu Rokba told Al-Masry Al-Youm that police officers have been relying on wrong information from their secret sources, and accused security authorities of covering up the real culprits.
"Targeting police checkpoints is choreographed, and the media had given a false image of Sinai as a war zone," he added.
Abu Rokba stressed that jihadists do not have any intention to attack the police or the army.
The military has been conducting an operation in Sinai in an attempt to clear the peninsula of militant and criminal activity after the checkpoint attack.
The Egypt-Israel border area is on high security alert amid calls by citizens for the bodies of their relatives killed in the operation to be handed over.
Bedouin sources who asked not to be named told Al-Masry Al-Youm that those citizens plan on demonstrating to press for their demands.
In a press conference Saturday, Armed Forces media spokesperson Mohamed Ahmed Ali said the ongoing military operation in Sinai has destroyed 31 tunnels used to smuggle goods and arms across the borders, while 32 suspects were killed and 38 arrested for pending criminal cases.
The statements stirred the anger of tribesmen residing in Sinai who cast doubts over the facts given out by the Armed Forces, charging them with making up information for public consumption.
Former Salafi-oriented presidential candidate Hazem Salah Abu Ismail said on his Facebook page Sunday that the state should immediately explain the legal basis for killing individuals in Sinai by army forces.
"No matter how outrageous the crime was, the price for it should not be undermining the rule of law," he wrote.
Popular resentment over the security handling of Sinai has been on the rise, especially following a series of arbitrary arrests that kicked off after terrorist attacks rocked tourist resorts in South Sinai from 2004 to 2006.
Meanwhile, a spokesperson for the Hamas government in Gaza, Ehab al-Ghussein, told German news agency DPA that Egyptian investigations had proved that Palestinians in Gaza had nothing to do with the Rafah attack.
Ghussein stressed that the Egyptian-Palestinian border is highly secured by Palestinian security services and denied that any Palestinian suspects had been detained after the assault.
Ghussein also told the website of Hamas' interior ministry that a security panel had recently met with Egyptian security officials to discuss common issues and future cooperation.
He said there had been a remarkable improvement in activity at the Rafah border crossing between Egypt and Gaza, especially as far as the application of travel bans and deportations are concerned.
"We are awaiting a brave decision to lift the blockade on Gaza and to permanently open the Rafah crossing," he said.
Edited translation from Al-Masry Al-Youm