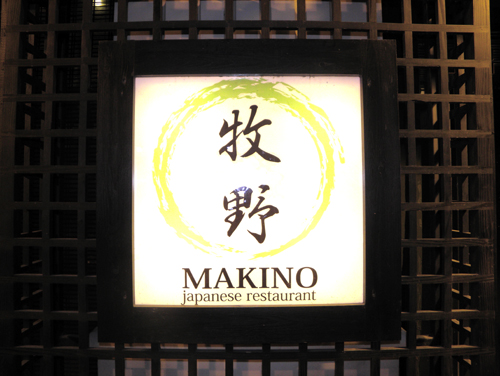 Tucked away in the bottom left corner of the Hilton Hotel — formerly the Safir Hotel — in Zamalek is a new Japanese restaurant called Makino, which had its soft opening back at the end of May.
With no official opening yet, my expectations on my visit were quite low, since reviews from friends had generally been negative. At first, Makino is a confusing and deceiving little place. You walk up to the hotel and towards what looks like the main exterior entrance, only to find a little pink sign explaining that the entrance is inside the hotel. The entrance lies after another couple of left and right turns — without signs unfortunately.
The staff seemed a little confused by our arrival. A couple of waiters ran to get a table, and two others awkwardly eased us into the restaurant, asking if we wanted to sit inside or outside. Seeing as it was summer (outside was a little hot and humid) and inside seemed brighter, with other diners at the tables, we opted for inside.
There was a feeling of disorganization upon entering. Japanese guests at a nearby table were shouting and laughing. The lights were a little bright, accompanied by a faint but curious fish smell that I hadn't smelled outside. I wondered if I had made a mistake by distrusting previous friends' reviews.
The restaurant was full of Japanese businessmen, however, which was a good sign. The manager explained that the owner of Hitachi electronics had created the restaurant in order to have a good local Japanese restaurant for himself and his business associates.
Inside, the decor was modern and quite nicely done. It was wooden and tiled with glass, but understated and comfortable. There was also a small sushi bar at the entrance. When the menus arrived though, I was sure we had made a mistake.
We were handed two booklets with a couple of pages, two loose cards with both sides filled with menu items, and two loose sheets of paper also filled with items. To make matters worse, very little on the menu was recognizable. Makino does not — I repeat does not — offer westernized Japanese food. It offers very traditional Japanese food, the sort one would probably find in a downtown Okinawa sushi bar.
After a couple of minutes of deliberation, we decided to dive in and make a list of five or six things that looked good, or at least interesting.
Since there were four of us, we decided on salmon sashimi, edamame (Japanese soybeans), grilled cuttlefish, boiled beef salad, tofu salad, simmered radish with mussels and miso, and assorted tempura, which came with miso soup. We also ordered four Heineken drafts.
At the last minute, we also spotted California sushi, and decided to place a safe bet on it.
The following 15-minute wait was then a little frightening, partly because the food seemed a little expensive and partly because we'd been stabbing in the dark with many of the dishes. The staff only knew the names of the food in Japanese, and not the English names.
But, as the food started arriving, the mood changed quickly. The edamame and beer arrived first. Then came complementary plates of tuna pieces, which were excellent, followed by the boiled beef salad and the tofu salad. By this point, we were all comfortably drinking, eating and laughing.
The food at Makino is excellent; no other Japanese restaurant in Cairo seems to offer their very unique blends of flavors. The cuttlefish, which is akin to calamari, turned out to be superb and buttery with lots of different spices. The sashimi was also by far some of the best I've ever tasted in Cairo, despite bits of skin being left on some pieces.
Having visited Japan before and eaten sushi there, eating at Makino evoked the experience of a local sushi and beer hall, despite being in a Hilton in Cairo. It was excellent beer drinking, light snacking food, despite the fact that we had ordered a lot.
By the time the California rolls arrived, which were made with avocado and fresh crab, rather than crabsticks, they were by far the most boring and unimpressive things we'd ordered.
Although everyone was full, we decided to try the black sesame and green tea ice creams, which were both excellent — vanilla-based with hints of both flavors.
We then ordered the check. Makino is not a cheap place, but it's not terribly expensive given the food. Dishes average between LE40–60, and, if a modest order was made, rather than for tasting purposes, it would probably work out to about LE100–150 per person. In our case, it was closer to LE200 a person, but we over-ordered.
The manager explained that their grand opening would be in September, with a consolidated menu based on the biggest hits over the past three months. Sake and imported beer are also expected to be added to the menu.
Overall, Makino is a pretty cool restaurant, and once the opening allows people to enter from the street entrance, and the staff gets a bit organized, it promises to be an excellent spot for a nice, traditional Japanese meal.
If your idea of a Japanese meal is sushi with fried tempura, cream cheese and pineapple, this is not the place for you. But, if you want to see what eating in Japan is like, albeit at a price, then go ahead and visit Makino.
This piece was originally published in Egypt Independent's weekly print edition.