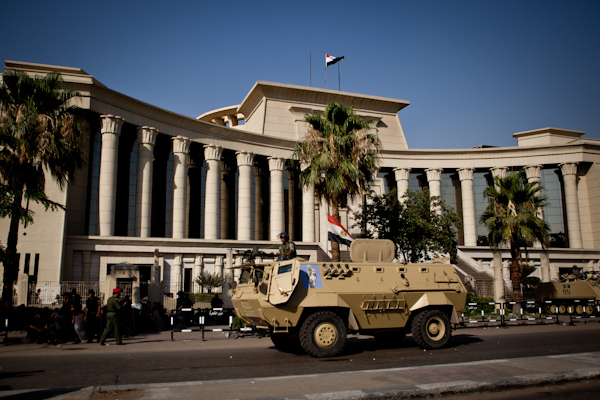 The Supreme Judicial Council has agreed to supervise a referendum on a draft constitution, a legal adviser to President Mohamed Morsy said on Monday, although some judges have called for a boycott.
Judicial dissent has complicated the Islamist leader's plan to end a crisis over Egypt's troubled political transition by driving through a new constitution in a snap vote on 15 December.
The judiciary oversees voting in Egypt by law.
The influential but unofficial Judges Club urged colleagues on Sunday to shun the referendum which Morsy hopes will douse anger over a decree he issued on 22 November, greatly expanding his powers and temporarily putting himself above the law.
Such a boycott, even if not all judges joined it, could undermine the credibility of the plebiscite and worsen disputes that have plagued Egypt's path to political change since a popular revolt overthrew Hosni Mubarak nearly 22 months ago.
The judiciary, like Egyptian society at large, is split over the vote on the constitution, the way in which it was drafted and Morsy's decree, seen by his opponents as a power grab and by his supporters as necessary to keep the transition on track.
"The Supreme Judicial Council has met and agreed to delegate judges to oversee the constitutional referendum," Mohamed Gadallah, the legal adviser to Morsy, told Reuters.
He said about 10,000 members of the judiciary are needed to monitor the vote. These do not all have to be judges and could include officials in prosecutors' offices for example.
There was no immediate comment from the judicial council, the body which formally oversees judicial affairs.
"It is still unclear how many judges will be boycotting," said Elijah Zarwan, a fellow with The European Council on Foreign Relations, adding that even a partial boycott could hurt the credibility of the referendum.
Many judges voiced outrage at Morsy's 22 November decree, which caused unrest in which three people were killed and hundreds wounded. Even his justice minister and vice president — brothers who were formerly respected judges who advocated judicial independence in Mubarak's time — have expressed misgivings.
"Scorched earth"
The constitution, which if approved would override the decree, is itself contested by opposition groups who say the Muslim Brotherhood hijacked the drafting of a document they say has no legitimacy in a deeply polarized society.
"Settling this matter using the ballot box is an illegitimate trick representing false democracy," liberal opposition leader Mohamed ElBaradei said on his Twitter feed.
The opposition has called for another mass protest on Tuesday in Cairo's Tahrir Square, the cradle of the anti-Mubarak revolt. Morsy's opponents have camped out there since 23 November.
The Judges Club boycott call carries echoes of Mubarak's days, when independent-minded sections of the judiciary refused to oversee elections unless he enacted judicial reform.
One leading figure in that campaign for judicial independence, former Judges Club head Zakaria Abdel Aziz said the judges had a "national duty" to oversee this referendum.
"A lot of judges called me and they are heading in the direction of supervising the referendum," he told Reuters.
"The head of the Judges Club is pushing in the direction of scorched earth," he said. "He and some of those that support him have pulled the judges into a political battleground."
Ahmed al-Zend, who now heads the Judges Club, has staunchly opposed Morsy's decree, taking the side of the former prosecutor general, a Mubarak-era appointee sacked under its provisions.
"We will not supervise a referendum that slaughters the nation's rights," Zend, who critics say only found his enthusiasm for an independent judiciary after Morsy took office, told Al-Masry Al-Youm newspaper in comments published on Monday.
The Judges Club recommendation for a referendum boycott by judges is not binding. Its earlier call for a judicial strike against Morsy's decree met partial success, with the Cassation Court and Egypt's highest appeals court ceasing work.
On Sunday the Supreme Constitutional Court, the highest in the land, followed suit, complaining that Morsy supporters outside its headquarters were intimidating the judges.
The court had been due to hear cases contesting the legality of Parliament's Islamist-led upper house and of the assembly that wrote the constitution, which was handed to Morsy on Saturday.
Essam al-Islambouly, a lawyer, said he expected a majority of judges to refuse to supervise the referendum.
But Essam al-Erian, deputy leader of the Brotherhood's Freedom and Justice Party, told Reuters most judges would fulfill their role on 15 December "because, in the nature of their work, the judges do not accept orders from anyone."