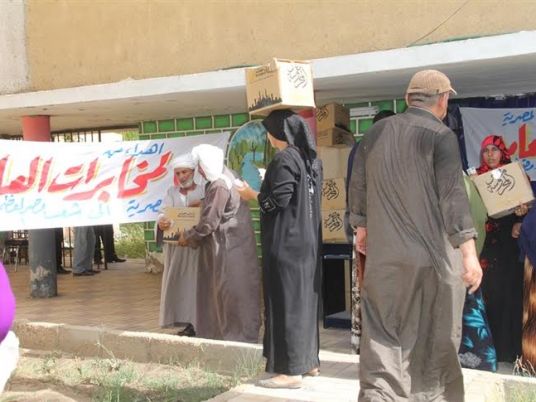 The Ministry of Supply aims to exclude about 10 percent of 71 million citizens who currently benefit from government subsidies in April and May, said Minister of Supply Ali Moselhy.
Moselhy made the statements to Al-Masry Al-Youm on the sidelines of an inspection tour at consumer complexes that comes within the framework of the Ministry's plan to check the availability of goods in high enough quantities to meet the demand.
The minister expected 7 million children who reached the age of two years to be listed with the Ministry's records in July.
Adding new beneficiaries to the Ministry's ration cards will come after updating the data of already registered citizens, said the minister, pointing out that the data would be updated by the end of May.
A plan to control prices and reduce the prices of foodstuffs including meat, poultry and fish is underway, said Moselhy.
The Ministry agreed with the Suez Canal Authority and the National Service of the Armed Forces to provide foodstuffs at reduced prices, Moselhy explained.
He explained that the ministry plan includes expanding the establishment of permanent markets and so-called "one-day" pop-up market throughout Cairo and the governorates. A map is currently being prepared in cooperation with the Ministry of Local Development, to be ready before the end of next July, with the aim of providing reduced prices through organized markets for citizens in the most needy areas.
The Ministry plans to establish in cooperation with the Local Development Ministry, before the end of July, markets in poor areas that will provide all foodstuffs at affordable prices.
Edited translation from Al-Masry Al-Youm