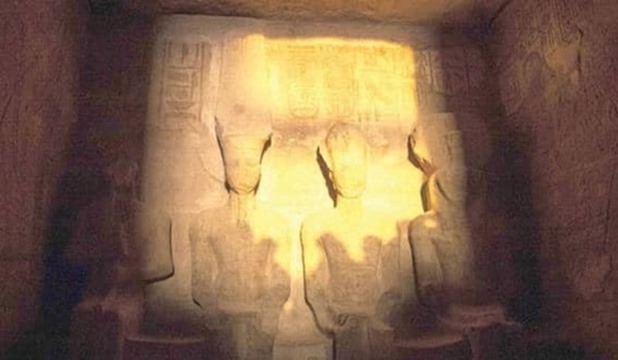 Sun illuminated on  Wednesday 22/2/2023 the face of Ramses II statue in the Abu Simple temple in south Aswan for nearly 21 minutes in a rare phenomenon that takes place twice a year.
Aswan Governor Ashraf Attia and Deputy Tourism and Antiquities Minister Ghada Shalabi, as well as leaderships at the Tourism and Antiquities Ministry and Aswan governorate witnessed this unique phenomenon.Also, more than 6,200 tourists, both foreign and Egyptian, gathered at Abu Simbel temple to watch the alignment of the sun on King Ramses II's face.
The phenomenon started at 6:21 am and continued for nearly 21 minutes, said Director General of Aswan and Nubia Antiquities Abdel Moneim Saeed.
Widely regarded as a feat of pharaonic engineering, the biannual solar alignment sees the sun passing over the face of the statue of Rameses II at Abu Simbel, once on February 22 and again on October 22.
King Ramses II is known as Ramses the Great, the third pharaoh of the 19th Dynasty of Egypt, who led many military campaigns in the Levant. At the age of 14, Ramses II took over the reins of power from his father Seti I.
MENA