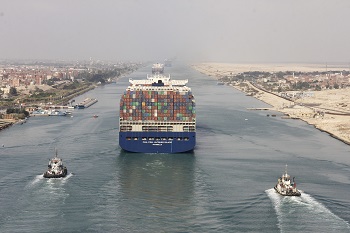 The Head of the Suez Canal Authority Osama Rabie announced Sunday that the navigation statistics in the canal for 2021 set new and unprecedented records, achieving the highest annual revenue in the history of the canal at a total of US$ 6.3 billion.
The largest annual net tonnages at the canal was over 1.27 billion tons, exceeding everything registered before.
Rabie said that the navigation movement in the canal in 2021 saw 20,694 ships crossing from both directions compared to 18,830 ships during the year 2020, an increase of 1,864 ships – a 10 percent rise – while the canal had recorded a total net tonnage of 1.17 billion tons during 2020, an increase of 100 million tons at 8.5 percent.
The Suez Canal's revenues in 2021 achieved a significant increase of 12.8 percent of its revenues in dollars, as the revenues of the Canal recorded US$6.3 billion, compared to US$ 5.6 billion during 2020, an increase of US$ 720 million.
Rabie noted that navigational reports during 2021 monitored a significant increase in the transit rates of various types of ships compared to 2020, as the number of LNG carriers increased by 36.6 percent from 686 ships in 2020 to 937 ships in 2021.
Container ships transiting the canal increased by 10.1 percent to reach a total of 5,186 ships compared to 4,710 in 2020, while bulk ships rose by 15.3 percent, with 5,893 ships compared to the transit of 5,113 last year.
Radie explained that this increase was reflected in achieving a boom in the general indicators of transiting bulk ships as the highest rate recorded in the history of the canal, achieving the highest revenue which surpassed the one billion dollar barrier for the first time in.
He added that the Suez Canal acquired about 15.7 percent of its total seaborne grain trade worldwide, with a total cargo volume of 83.5 million tons.
These indicators of performance rates during 2021 reflect the success of the flexible marketing and pricing policies pursued by the authority in gaining the confidence of the navigation community, he added, and in flexibly dealing with the changes occurring in the maritime transport industry, in light of the challenges brought on by the pandemic.