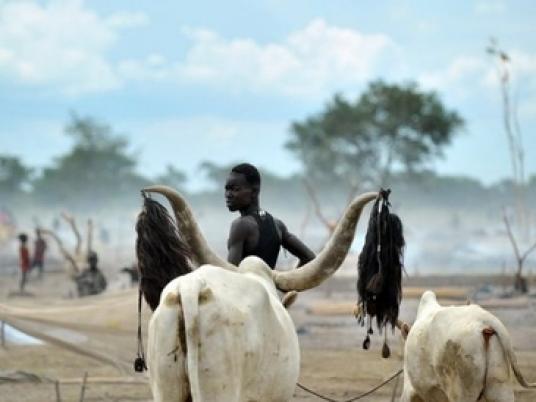 Sudan's president Omar al-Bashir said he will remain patient with Egypt even though "it has illegally occupied a disputed region near the Red Sea," in an interview with Al-Jazeera channel on Monday.
Bashir said he has been silent in the face of the occupation of the Halayeb triangle to honor the longstanding relationship with Egypt.
"We have done nothing or said anything wrong towards Egypt in spite the attack on our land and Egypt occupying parts of our territory," Bashir said.
Earlier this year, the Sudanese president said: "The Halayeb-Shalateen Triangle is a Sudanese area, but we are not going to war for it – it will be reclaimed through negotiations."
Before assuming the Egyptian presidency, President Abdel Fattah al-Sisi said: "The Halayeb-Shalateen Triangle is part of Egypt's territory. We urge Sudan not to start a conflict with Egypt."
Both Egypt and Sudan have a long-standing history; the countries were once a unified state in the mid-20th century. Many believe the way forward is to reinstate the 1982 Nile Valley parliament, a body of politicians from both countries, which helped improve diplomatic relations.
The parliament's work, which came to a halt in 1985, had agreed on equal treatment for citizens, freedom of movement, residency, acquisitions, labor and trade exchange, as well as a joint unified policy at the level of international relations and diplomatic representation.
Bashir had also previously accused the Egyptian media of attempting to aggravate tensions between Cairo and Khartoum, which have been on edge in recent months after Bashir claimed that Egypt is supporting Sudanese opposition figures fighting his troops.
"But we have been patient with them because we know that we have very important historic ties. Egypt has been targeted and we are also targeted… so a rift between us would only serve the interests of the enemies of the Arab nation," he added.
The Egyptian media claimed that Khartoum is offering refuge to members of the Muslim Brotherhood movement, which was declared a terrorist group by Egypt following the ouster of Islamist president Mohammad Morsi in 2013.
Both countries have attempted to cool the rising hostility, with Egyptian Foreign Minister Shoukry visiting Khartoum on April 20 for talks with his counterpart Ibrahim Ghandour.
Egypt and Sudan agreed during the talks that neither side would harbor or support opposition groups fighting their respective governments.
But Sudan then introduced entry visas for Egyptian travelers on April 7, just as Egypt put similar impositions on Sudanese travelers.
Sudan's decision to place a restriction on Egyptian men aged 18 to 50 is aimed at preventing "terrorists" from infiltrating the country, it said.
The restriction does not apply to Egyptian women.
In 2004, Egypt and Sudan signed the Four Freedoms Agreement, allowing citizens to move freely between both countries and live, work and own property without a permit.