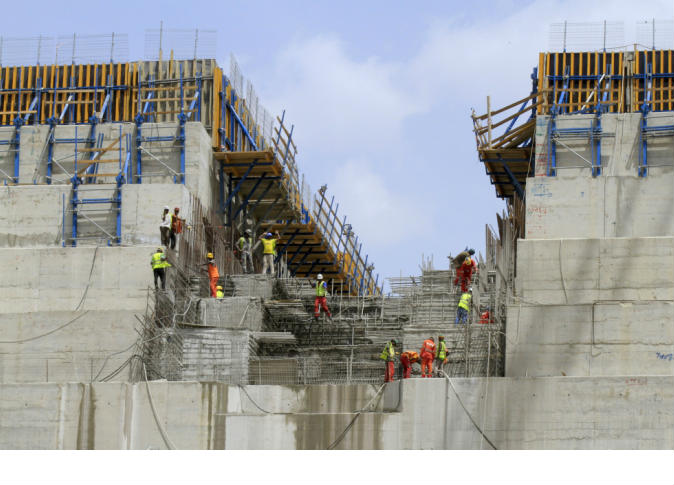 Sudan's Minister of Irrigation and Water Resources Yasser Abbas on Sunday met with Finnish Foreign Minister Pekka Haavisto to discuss the current situation on the Grand Ethiopian Renaissance Dam (GERD) and the latest developments regarding negotiations.
Abbas presented to the European envoy Sudan's proposal that the umbrella of mediation in GERD negotiations should include the United Nations, stressing that the GERD could be a focal point for regional cooperation and an exchange of benefits instead of competition and conflict.
Haavisto said that he will visit Addis Ababa to meet the Ethiopian Prime Minister for the same purpose.
Abbas stressed Sudan's support for the GERD, stating that Ethiopia has every right to its development provided that this does not negatively affect Sudan, and urged the signing of a binding legal agreement.
He also explained the risks presented by Ethiopia's second filling of the back in July without consulting Egypt or Sudan beforehand.
Sudan has warned that filling the dam without reaching a tripartite agreement would compromise the safety of the Sudanese Roseires Dam and endanger the lives of millions of people who live in the surrounding area.
The Roseires Dam is located roughly 40 km from the site of the GERD.
Egyptian President Abdel Fattah al-Sisi on Saturday said that "We will reach a result over the GERD with patience."
In a phone-interview with the TV anchor Amr Adeeb, Sisi added that "Egypt is in the stage of negotiations over the GERD, and negotiations are lengthy. We have made internal measures in Egypt to diversify water sources such as treatments and others."
Egypt on January 10 said that the recent sessions of GERD negotiations have failed once again due to differences on how to resume talks and of the procedural aspects related to managing the negotiation process.
The three parties have held several rounds of negotiations over the past years, but have ultimately failed to reach an agreement.
The construction of the dam, which began in 2011, is considered to be one of Egypt's most serious water issues.
Egypt, which relies considerably on freshwater from the Nile, has voiced fears that the GERD would negatively impact the country's water supply, and has insisted that measures be put in place to protect downstream countries in case of drought during the dam's filling process.
Ethiopia, on the other hand, has stressed the importance of the project to bolster its economy, where more than half of the population currently lives without access to electricity.
Edited translation from Al-Masry Al-Youm