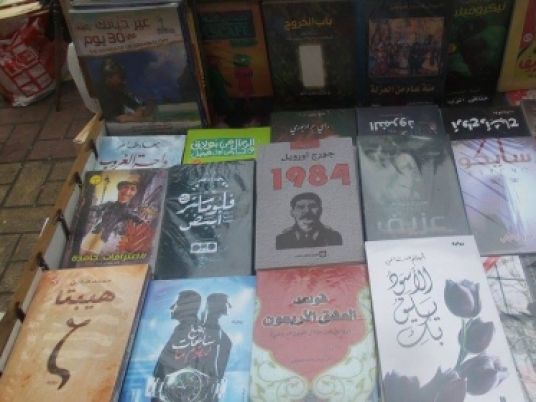 When he issued his famous novel, 1984, British novelist George Orwell never thought it would be a source of happiness for a Downtown Cairo bookseller.
"I hope they arrest someone with a book everyday", said Sayyed Ali, 25, a bookseller at the decades-old Azbakeya Wall, Old Cairo's most famous market for cheap, used books. He was referring to the arrest of a Cairo University student two weeks ago for allegedly holding the novel among other possessions upon his arrest for taking photos of police troops deployed outside the campus.
Ali said he was happy with the novel's soaring sales and the high client turnover. His market fellows confirm ten new editions of the novel, 1000 copies of each, had been issued since the arrest row.
The novel is currently most popular among youth, according to Hajj Ali, another bookshop owner. "This novel has turned everything upside-down. Many people come in the same time to ask for it. We later knew that they had arrested a student with the novel, so we printed it, sold it out and still people come to ask about it".
Sayyed Ali says that before the controversial incident, he had three copies of the novel that remained unsold for months. "I used to sell one copy for LE10, but nobody wanted it", he says. "Now, people fight for it, and we currently sell it for LE20-LE25. Thanks good we have made good returns".
"Doublethink means the power of holding two contradictory beliefs in one's mind simultaneously, and accepting both of them", a quote from Orwell's dystopian novel reads, perfectly reflecting the stance of Azbakeya booksellers who, though condemning the arrest of a student for merely possessing a novel, wish the incident would recurs.
Mohamed al-Sayed is one of those, expressing gratefulness to the government and hoping more books are confiscated so as to spur readers to seek them at the market. "If the government arrests someone or confiscates a book everyday, that would be a great favor. Anyway, we should thank the Interior Ministry", he says.
Edited translation from Al-Masry Al-Youm