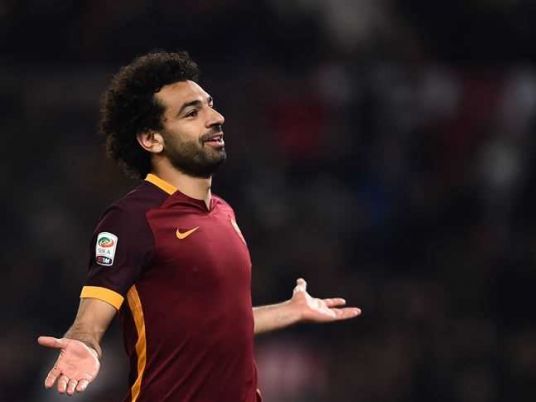 Ahead of Sunday's match against AC Milan, Egyptian striker to Roma football team Mohamed Salah, known as "Momo", along with two of his teammates Radja Nainggolan and Daniele de Rossi, received anonymous death threats.
After the club's defeat to Lazio football club last week, three dummies donned in the jerseys of the football players were found hanging in the Colosseum area along with a large banner saying: "Un consiglio senza offesa … dormite sempre con la luce accesa". Translated, this means: "Some advice with no offense … always sleep with the lights on".
According to the Italian media, Rome police opened up an investigation into the death threats as it dispatched to the Colosseum area.
Other Italian media outlets have reported that the Lazio football team Ultras, "Curva Nord Lazio", claimed responsibility for the incident; they released a statement saying that they would not apologize and it was "healthy banter".
"Amazed and stunned by such narrow-mindedness, from the sensationalism and animosity that creates Italian journalism, the 'irriducibili' of Lazio's Curva Nord claim responsibility for the banner that appeared last night and clarify that everything should be confined to the healthy banter that creates the capital derby," the statement read, according to Italian media.
It added: "There was no threat to any Roma player; there were inflatable dolls which aimed to highlight the depressive state of [Roma's] fans and players on the other bank of the River Tiber. It represented the continuation, not the end, of some healthy banter, that now three derbies have now passed."
The statement said the banner with the words "sleep with the lights on" was to prevent nightmares from disturbing their sleep. "We won't apologise to anyone because, even if it's bad for some, it's all in our healthy right to ridicule our eternal rivals."
In Egypt, a large number of Salah Fans launched a hashtag "Mohammd Salah is redline" which went viral and topped the list of the trending hastags in Egypt a few hours after the news broke. Most of the tweets were supporting the footballer and warning against attempts to harm him.
Moreover, the Facebook page of Curva Nord Lazio recevied dozens of comments from Egyptians criticizing and cursing their act and warning them against ever approaching Salah.
A source at the Egyptian National Football team told Youm 7 that the head coach Hector Cooper phoned Salah and advised him not pay attention to these threats and only focus on the coming matches, so as not to be emotionally affected by these threats which usually come from fanatical masses. He said that senior and professional players used to receive similar threats and none of them were ever harmed.
Salah scored 13 goals in the Italian league this season with Roma football club leading it to be the second in the domestic league with 75 points score. In 2016 Salah was selected as the best player in Roma team in a popular referendum.