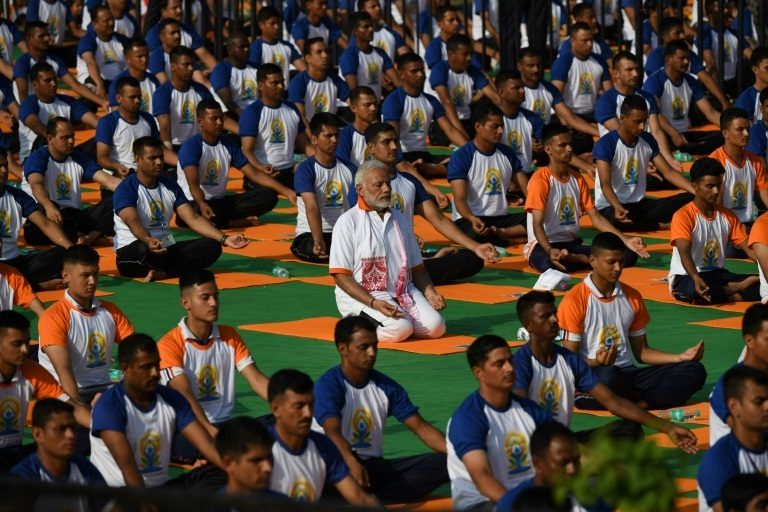 Downward-facing dogs, cobras and warriors sprouted all over Asia on Thursday, including high in the Himalayas, up in the air and under the sea, for International Yoga Day.
Indian Prime Minister Narendra Modi, whose proposal for the global event won UN approval in 2014, led the way, performing his asanas with over 50,000 others in the northern city of Dehradun.
People there gathered at a sprawling forest research institute — snakes and monkeys were removed in advance — as far as they eye could see before dawn for the communal session involving the yoga-mad premier, an AFP reporter at the scene said.
"Instead of dividing, Yoga unites. Instead of further animosity, Yoga assimilates. Instead of increasing suffering, Yoga heals," Modi said on Twitter.
Other gatherings took place across New Delhi with 10,000 enthusiasts registered as well as more than 5,000 events across from the country including in Ahmedabad, Mumbai and Patna.
In the capital several hundred braved unhealthy pollution levels and hot and humid weather to lay out their mats in the Lodi Gardens park amid the Mughal tombs.
"Yoga basically comes from India, and now it's celebrated all over the world. So now the world knows the power of yoga," participant Sidharth Singh, 23, told AFP.
The largest was in Mysore in the south with more than 60,000 aficionados strutting their stuff, organizers said.
There was also floating yoga on board the Japanese naval ship JS Ise and on the Indian Navy's INS Sahyadri, both taking part in military exercises in the Pacific, the Indian Navy said.
Below the surface, photos released by the Indian military showed a submarine crew joining in, while the Air Force tweeted photos of skydiving parachute instructors in yoga poses as they tumbled to Earth.
On top of the world
Even higher though were members of the Indo-Tibetan border police, going through their moves on a bleak and freezing Himalayan desert plateau 18,000 feet (5,500 metres) above sea level.
Artist Sudarsan Pattnaik meanwhile created a special sand sculpture with the message "Yoga for Peace and Harmony" on a beach in the eastern city of Puri.
It featured Modi, US President Donald Trump, Chinese leader Xi Jinping, Russian President Vladimir Putin and North Korean leader Kim Jong Un all in the lotus position.
In Tokyo, around 80 people — mainly in their 60s and 70s — took part in a special yoga session in the Zojoji Temple, the two-story red shrine in the shadow of Tokyo Tower.
Some 300 yogis stretched out on colourful mats for a dawn practice in a park in Myanmar's largest city, Yangon, with the glittering Shwedagon Pagoda as a backdrop.
Interest in yoga has surged in Myanmar over the past decade, as the country's growing middle class catches up on global trends once kept out under isolated military rule.
"Now yoga is popular around the country," yoga teacher Khin Mg Swe, 69, who organized the event, told AFP.
Other events were scheduled around the world later, including in Kilkenny in Ireland, in Milan, Italy and in Times Square in New York.
Other cities however held their yoga day earlier than June 21 — the longest day in the Northern Hemisphere — including in Paris, Seoul and in Durban, South Africa last weekend.
'Not to worry'
Modi is keen on portraying his physical prowess, last week posting on Twitter his morning yoga routine involving plodding around a tree and flexing over a boulder.
He has also spearheaded an initiative to reclaim the discipline as a historic part of Indian culture since his Hindu nationalist government came to power in 2014.
Yoga has boomed in recent decades, with millions — perhaps up to 300 million — practicing it regularly, although in the West it is often more of a gymnastic than a spiritual activity.
But this doesn't bother the spiritual head of the biggest ashram or retreat in Rishikesh, the Indian city on the banks of the holy Ganges river considered the world yoga capital.
"At least people are doing it. One day you walk the path, the next day you find the truth also," Swami Chidanand Saraswati told AFP.
"As the Sun is for all, the Moon is for all, rivers are for all, in the same way yoga is for all," he said. "Not to worry!"