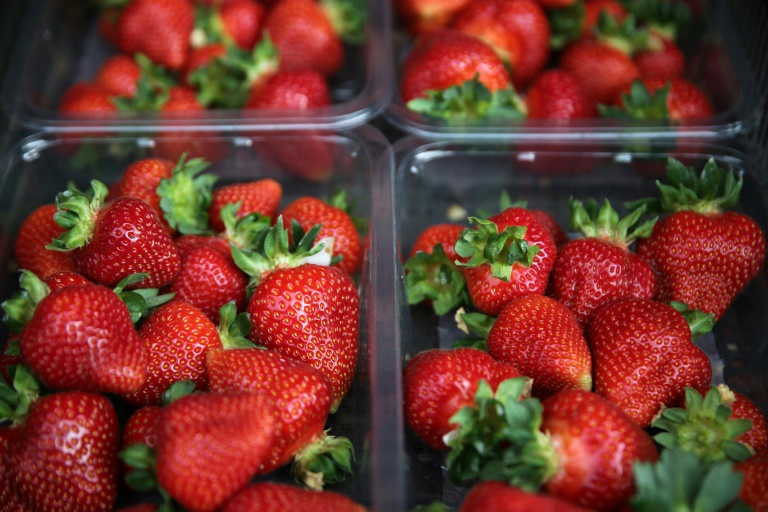 Australian police on Tuesday admitted they still don't know who has been putting sewing needles in supermarket strawberries, but warned perpetrators behind the nationwide scare face a decade in jail.
As the number of reported attacks ballooned and suspected copycat attacks were reported — with one apple and one banana contaminated in the Sydney area — police issued a warning about the seriousness of the crime.
It "is a serious offense which carries ten years jail," warned New South Wales Detective Superintendent Danny Doherty, who described the fruit contamination as an act of "treachery."
Police now say there have been 20 reported cases of needles or pins being found in strawberries in New South Wales alone, a dramatic leap from the half dozen first reported countrywide.
"We still haven't any confirmed motivation or reasons why a person would want to do this," said Doherty. "We haven't any confirmed demands.
"Who puts needles and pins into strawberries, knowing that's going to go to families and young kids? There's some issues there, obviously."
The scare has prompted supermarket recalls and for some stores in New Zealand to temporarily ban the sale of Australian strawberries wholesale.
No significant injuries have been reported.
In the state of Queensland, where the scare is believed to have originated, the authorities have announced financial support for growers who have been forced to pulp their product.
Some producers have reportedly turned to the use of metal detectors to make sure produce is safe to eat.
Police recommend that Australians "cut up strawberries before use, and exercise caution."
The scare has put the focus on food safety and prompted questions about whether the industry's supply chains are watched rigorously enough.
"This latest attack could be viewed as a form of food terrorism" said Andy Lowe, a professor at the University of Adelaide.
It "highlights how vulnerable our food supply chains are to deliberate contamination and tampering," he added.