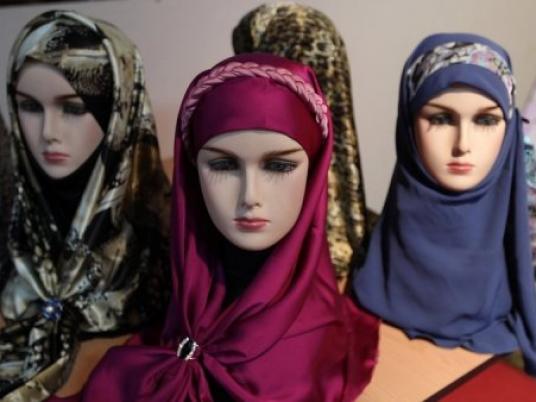 Even though the majority of Egyptian women wear hijab, this summer brings an uncomfortable surprise for them, as they have been banned from entering several veil-free restaurants and hotels.
During the last couple of years, a number of veil-free zones have appeared in Egypt, mostly in Hurgada and Sharm El-Sheikh, but their popularity has recently increased across the country.
This has sparked a wave of popular outrage among veiled Egyptians, who consider this to be a violation of personal rights. In response, a group of veiled women have launched a Facebook group entitled "Respect my veil," where they can publish stories of veiled women, who were not allowed into many Egyptian establishments. The corresponding hashtag on Twitter, recounting all the places that ban the entry of veiled women, has gone viral on social media.
The group has prepared a full list of "hijab-free" places, calliing for a boycott of L'aubergine, Grafitti, Four Seasons, Gabriel Marina restaurant and Lemon Tree.
Many resorts and hotels have also banned women to swim wearing a full-body swimsuit, which conforms to Islam's traditional emphasis on modest dress.
Those resorts include Fairmont Heliopolis Hotel, Stella de Mare Ain Al-Sokhna resort, Citadel Azure Sahl Hashish, Makadi Garden Azur, Oasis hotel, Arabia Azure Hurgada resort, Stiengenberger Gouna and La Vista North Coast.
You are not allowed to get in
"We've travelled to Ain El-Sokhna for a nice vacation in Stella de Mare resort, it was fun in the beginning, but everything got worse when we decided to swim in the pool," Dina Zafer, a translator, told Egypt Independent.
After swimming for a few minutes in the pool along with her little kid, Zafer heard an alerting whistle and a worker shouting at her, asking her to leave the pool.
Zafer did not like the worker's manner, but she went out of the pool, wondering about the reason for his behaviour; "Sorry, but full body swimsuits are not allowed," the worker said, explaining that this form of clothing increases the amount of bacteria in the pool. He also added that it's the resort's policy: women are allowed to swim with full body swimsuits only in the sea and the baby's pool.
"The worker's response seemed ridiculous and unconvincing, and with no hesitation I decided to withdraw my money and leave the place instantly," Zafer said.
Zafer shortly complained the resort on Booking.com, Tripadvisor and with the Consumer Protection Agency.
Egypt Independent contacted the "Stella De Mare" hotel in Ain El-Sokhna, and they confirmed only "sleeveless swimming suits" are allowed.
At the same time, Sarah Taha reported on her Facebook account that she had been turned away, along with her friends, at one of the restaurants in Marina (North Coast) for being "veiled".
"The worker told me it's the restaurant policy which bans veiled women from enter the facilities. He can secretly let me in during weekdays, but it's impossible during weekends or Eid vacation," Taha said.
Reem Mohammed, a married lady, said that she passed by five different beaches in Marina along with her husband and child, but all of them (including Sky Pool and Gabriel) refused them entry because she was wearing a headscarf.
Dina Hassan wrote on the "Respect my veil" Facebook group that Lemon Tree does not let veiled girls in after 6 o'clock; and Andrea Hacienda doesn't allow any veiled women to get in, even if they want to use the bathroom.
"During Eid Al-Fitr vacation I went to Steignberger hotel along with my family and friends. When our ladies went into the pool, the hotel workers told them to leave, because they were wearing full-body swimsuits," said Ahmed Zein on his Facebook account.
Zien angrily discussed what happened with the recreation manager, who stressed that full-body swimming wear was not allowed in accordance with ministry of tourism instructions. The ministry spokesperson, Rasha Al-Azaizy, denied any allegations of instructing the hotels to ban veiled women.
"It's not true, but if it happened it's a clear violation," Al-Azaizy said, urging women to complain to the Ministry and report all such violations.