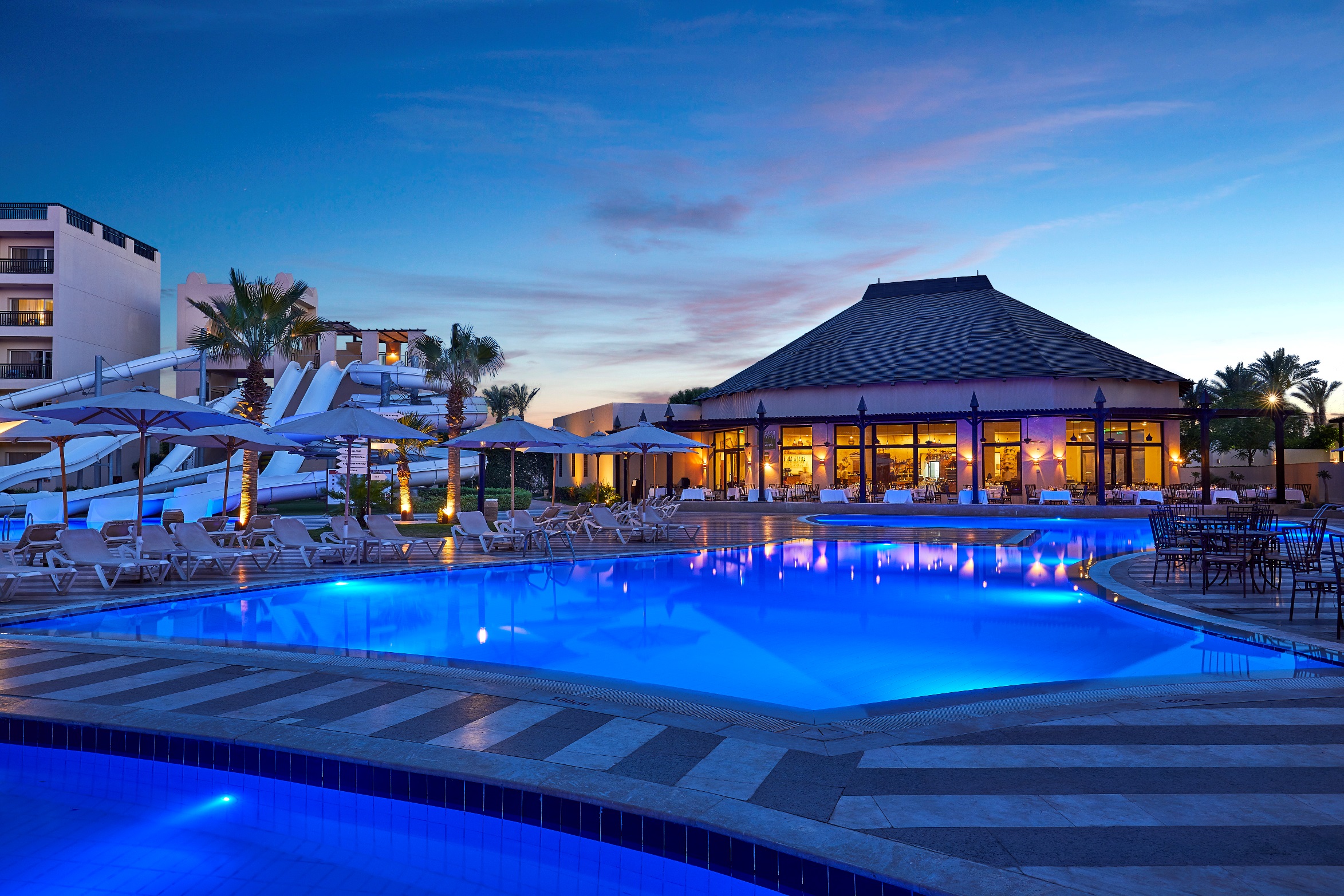 Steigenberger Aqua Magic is an award-winning, 5 star ultimate family vacation hotel in the Red Sea. Categorized as one of the best aqua parks in the destination, it offers the finest services, amenities and facilities in a warm, yet modern ambience by the testimony of all its guests.
The hotel is perfectly located on the premises of Steigenberger ALDAU, overlooking the captivating azure water, surrounded by a spectacular landscape, and a unique close-up of the Red Sea Mountains.
The centerpieces of this property are the internationally certified Aqua Park, and its enormous aqua facilities, the Aqua PlayTM water features and The Lazy River. We all know that family time is precious; that is why Steigenberger Aqua Magic offers remarkable facilities and exciting entertainment options that are perfectly designed for children of all ages. It is simply the ideal place for a relaxing and fun family escape, with endless daytime activities and night-time shows.
The hotel presents a host of exquisite restaurants and bars that feature finger-licking and sensational dining cuisines, from all corners of the world.
First on the list is Magic Palappa: an Italian restaurant set adjacent to the Aqua Park swimming pool, and the perfect location to relax and sample a selection of Italian specialties. They will take you to Italy and back with many delicious options, so you can fall in love at first taste!
Next is "S-Square", which contains three Asian restaurants: "The Sushi Bar", the "Sumo House" noodles bar, and the "Samurai", an authentic Asian Teppanyaki restaurant, characterized by its different flavors and the gentle use of red meat, oils, fats and dairy products. Lightness, balance and simplicity are guaranteed at these sophisticated restaurants at all times.
For those who want a serene and tranquil place, the Magic Sky Restaurant offers an enticing a la carte dinner menu, while the Magic Sky Bar offers a shisha lounge and bar, with a fine selection of cocktails and wines. All located on the rooftop, offering breath-taking views of the Red Sea, the Golf Course and the Red Sea mountains.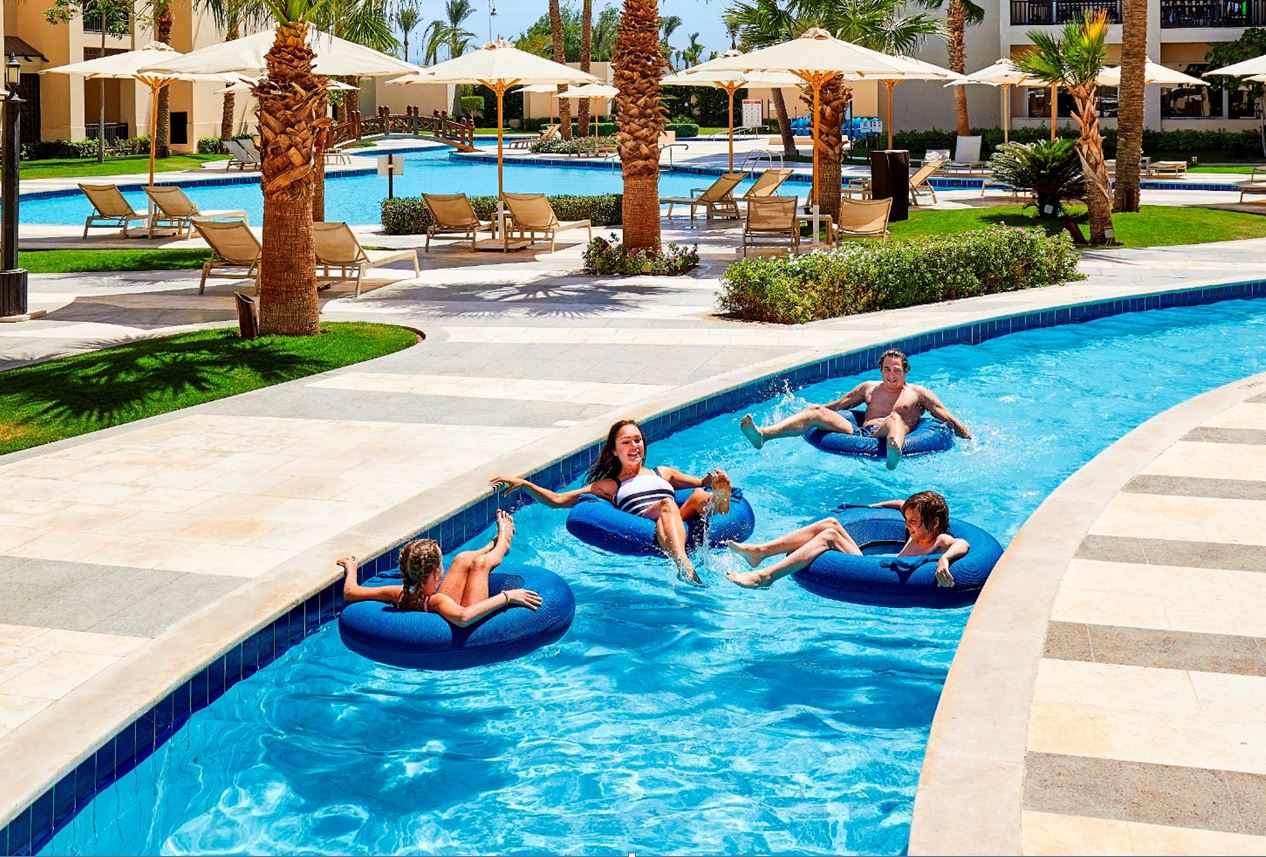 This 5 star aqua hotel guarantees the ultimate vacation – with privacy for all family members – and boasts 725 spacious guestrooms and family suites, with comfy furnishing and flat TV screens. This is in addition to breathtaking views, and sunlight which brightens all rooms. With endless day/night activities and countless facilities, Aqua Magic is the true fun vacation, where happiness begins and good times never end! From a leisurely atmosphere and soothing spa center, to exciting water sports/diving center, fine dining and even golf – yes, enthusiasts can enjoy a fully-equipped golf round at the hotel's Golf Center.
Last but not least, the landmark to nightlife in Hurghada is the American-inspired "Elements Club & Lounge" located at the tip of ALDAU promenade. Here, you can enjoy mind-blowing gigs and mouth-watering afterhours dining. And for those who want to unwind and enjoy a hot or cold drink in peace, the hotel has a range of modern, hip and trendy bars serving mind-blowing cocktails, top-shelf spirits, soft and hot drinks!
The hotel has received 18 prestigious awards in recognition of excellent quality, exceptional service and luxury which are only awarded for the highest level of hospitality, based on reviews and audits from more than thousands of guests. It's quite simply the bliss vacation empire.
Enjoy a blend of posh and liveliness, whether you are seeking a phenomenal getaway or a family blast, you definitely have it all at this remarkable hotel.
What are you waiting for? Bring your family and dive in!