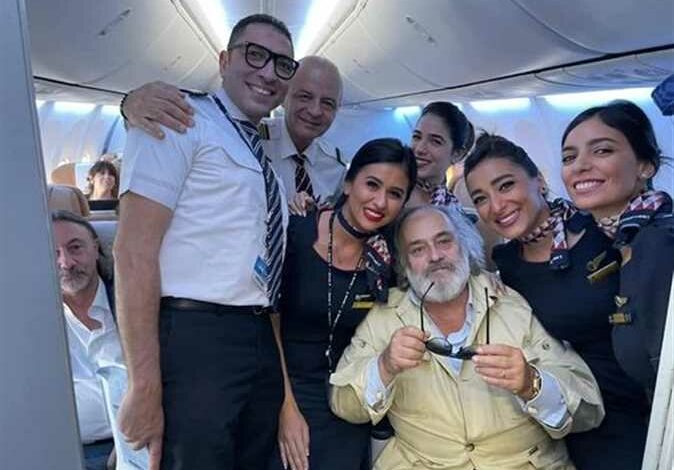 International fashion designer Stefano Ricci left Luxor with his family and several guests participating in the celebration marking the golden jubilee anniversary of his fashion house, which was held in the yard of Hatshepsut Temple in Luxor.
EgyptAir flight crew took several photos with the international designer, on the plane returning on Tuesday from Luxor Airport to Bologna, Italy.
Ricci thanked the flight crew, in addition to praising the level of services provided on board, facilitating procedures and helping the public relations teams to finalize the procedures for all the guests of the ceremony.
He left a message on the plane seat, thanking Egypt for the generous hospitality and reception.
A golden occasion
The 50th anniversary celebrations started with a dinner party in the Luxor Temple in the presence of 500 international figures, including artists, politicians and public figures.
The head of the Central Administration of Upper Egypt Antiquities, Mohamed Abdel Badie, told Al-Watan newspaper that a fashion show for Stefano Ricci's latest designs had also been held during the event.
Badie said that the show was inspired by Egyptian civilization, dominated by the golden color of gilded Pharaonic pieces, inscriptions of temples and the blue color of the Nile.
Models emerged from the dazzling sides of the temple, he added, amongst the statues of Queen Hatshepsut in the Osirian body to the catwalk.
The celebration then continued on Monday with a visit to the Temple of Habu and a number of archaeological tombs in the Valley of the Kings, including the tombs of the golden pharaoh Tutankhamun and Nefertari.
Ricci remarked that the occasion was "extraordinary", and heaped praise on the Egyptian administration's organizing of the event.