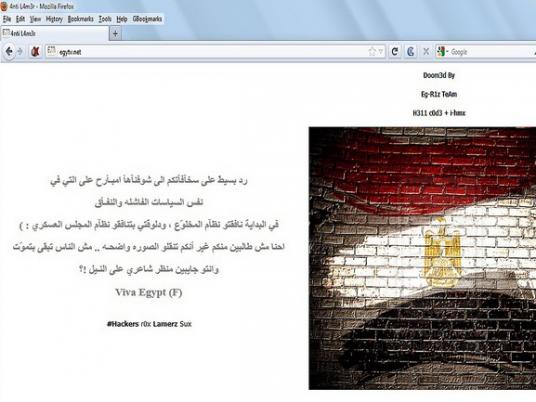 Hackers attacked the website of Egypt's state TV on Sunday to protest what they called its biased coverage of the violent encounters Saturday between security forces and protesters in downtown Cairo.
A message posted on its website, Egytv.net, by hackers read: "This is a simple response to the absurdities we watched yesterday on your screen." The website is currently offline.
The message said the TV coverage of the Saturday clashes "copied the failed policies of hypocrisy."
"First, you licked the boots of the ousted regime, and now you do it with the ruling military council," the message added. The hackers urged TV officials to cover news events honestly.
Media figures have slammed state TV for its biased stance on the clashes that broke out on Saturday. They cited one TV camera that only focused on a burning police vehicle, as well as anchors' descriptions of protesters as "rioters." The anchors also aired phone calls from commentators who said the protesters did not belong to the January revolution.
State TV has faced accusations of bias since the beginning of the 18-day uprising in January. The criticism returned strongly with it's coverage of the violence that erupted on 9 October outside the state TV building, also known as Maspero, after which activists accused military forces of killing 27 protesters.
Activists blamed state TV for incitement against the peaceful Coptic-led march, as one announcer urged viewers to take to the streets and defend the armed forces against assaults by protesters.