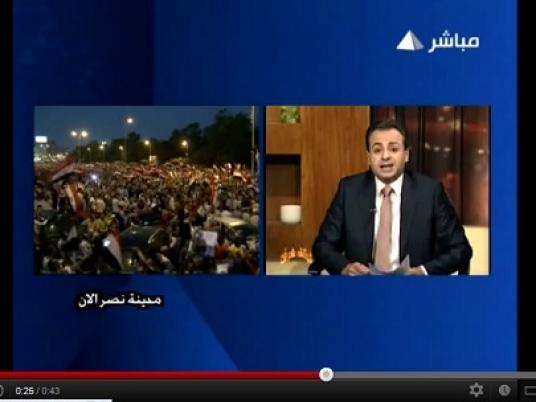 A state TV presenter has accused his superiors of slanting coverage in favor of the ruling Supreme Council of Armed Forces and presidential candidate Ahmed Shafiq.
Sherif Abdel Wahab described a heated exchange between himself and the director of the progam, Hatem Elewa, on his show "Code of Honor" on Saturday evening.
Abdel Wahab said the director told him to broadcast protests in Nasr City in support of the SCAF and Shafiq, and to ignore the much larger gathering of protesters in Tahrir Square.
Abdel Wahab said he maintained that both shots should alternate on screen, because "they are both Egyptians."
"Please, sir, excuse me, but can we please have ten seconds of Nasr (City) and ten seconds of Tahrir?" he said he asked his manager. When his manager refused, Abdel Wahab asked for them to call Alaa Bassiouni, president of the Egyptian Satellite Channel, to discuss the instructions.
Under former President Hosni Mubarak, the country's media was tightly controlled, with dissenting figures frequently intimidated or fired.
Since Mubarak was deposed last year following a popular uprising, some state media employees have expressed frustration at the top-down orders that sometimes limit their reporting. The institution has, though, by and large remained a mouthpiece of the government and the SCAF throughout the interim period.
Edited translation from the Al-Masry Al-Youm website