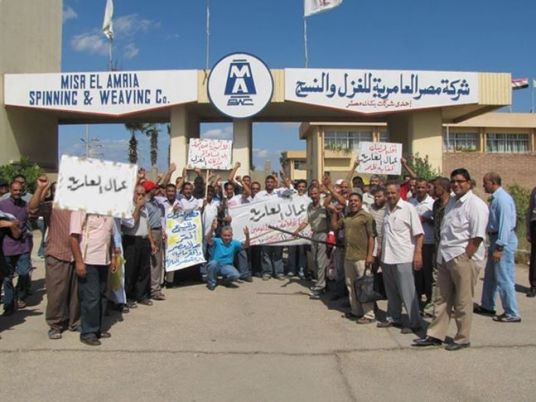 Wednesday's cabinet reshuffle has seen the state-owned business sector breaking its 12-year-old affiliation with the Investment Ministry, with the sector now having its own ministerial portfolio.
The split had been a common demand throughout consecutive cabinets since 2004, when former PM Ahmed Nazif first merged the ministries of investment and public business into one entity.
With 475,000 workers in 125 companies, state-owned businesses have represented a dilemma for consecutive investment ministers since the 2011 uprising.
The new ministry will have plenty on its plate, most notably privatization efforts that have been judicially challenged by sector workers since 2011, with many investors seeking international arbitration. And while a number of privatized companies have reverted to state ownership, others are either undergoing liquidation of facing bankruptcy.
At the forefront of the endangered companies are the 32 owned by the Cotton and Textile Industries Holding Company, with losses and debts amounting to LE2 billion, and 69,000 workers consuming 50 percent of revenues in payments.
State-owned businesses are seen as prime targets for government plans to offer shares on the stock market, especially as those companies have previously been involved in partial sales of their assets.
State-owned companies in three areas, namely tourism, medicine, land and maritime transport, provide the lion's share of funds flowing into the treasury, having brought in LE260 million in the current fiscal year, up from only LE50 million the year before.
According to the Investment Ministry, combined profits for the sector stood at nearly LE580 million in 2014, rising to LE1,908 billion in 2015 and LE2.1 billion in January 2016.
However, Sherif Sami, head of the Egyptian Financial Supervisory Authority, downplayed the significance of the split between the Investment Ministry and the state-owned business sector. He told Al-Masry Al-Youm that the sector does not include successful companies that would stimulate investors to buy their shares, which, he said, means they are not eligible for a stock-market offering.
"Those companies can issue debt instruments to secure financing, while remaining under state ownership," Sami said.
"Their unused assets can also be used for real-estate, rather than industrial activity," he added, voicing a hope that Public Business Minister Ashraf al-Sharqawi, who was appointed on Tuesday, will adjust the budgets of those companies and boost their stock-market shares.
Edited translation from Al-Masry Al-Youm