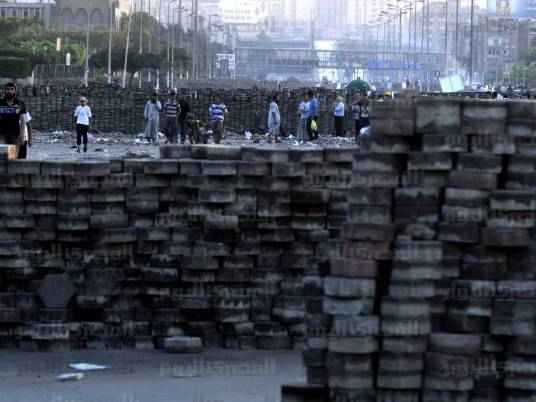 Organizers at the Rabea al-Adaweya sit-in in east Cairo have announced a state of emergency, as tension mounts before an expected dispersal by Egypt's Interior Ministry.
The stage at the sit-in, which started over one month ago in support of Mohamed Morsy after his overthrow from the presidency, announced a state of emergency on Saturday.
Organizers also called for doctors, paramedics, nurses and volunteers with cars and motorcycles to help with the injured should an attack come in the next three days.
The use of fireworks and green laser-point pens, a ubiquitous feature at protests in Egypt, were strictly forbidden unless stated otherwise, they said.
Security guards at the entrances and exits to Rabea were increased, while concrete barriers were built up on the side of Youssef Abbas Street and blocks and sandbags increased to bolster the defences around the square.
Mohamed Ibrahim, a media centre staffer at the sit-in, said that Muslim Brotherhood leaders have acquired information suggesting Central Security Forces are currently on a state of alert ahead of a planned dispersal.
Police will try to break up the pro-Morsy protest after the third day of Eid, which ended on Saturday, he said.
The dissolved Shura Council's National Security Committee meanwhile held a press conference, in one of Rabea al-Adaweya mosque's halls, to demand that the army protect Egypt's national borders and face off national security threats in Sinai.
The commitee considered speculation that Egypt and Israel cooperated in an alleged air strike on Friday "a contempt."
Pro-Muslim Brotherhood preacher Safwat Hegazy made a speech on the stage on Saturday claiming that the military spokesperson, Colonel Ahmed Ali, "makes up news stories." He demanded transparency about events in the Sinai.
Hegazy also announced a football match between a group dubbed "Athletes Against the Coup" and other pro-Morsy protesters. The match will be held in the other pro-Morsy sit-in, in al-Nahda Square in Giza.
The winners will be presented with a trophy, he added.
Nehal Zaghloul, spokesperson for "Women Against the Coup," said her movement believes events in the Sinai are being masterminded by "coup leaders" in order to give them legitimacy in power.
She then addressed U.S. President Barack Obama, asking him not to interfere in the domestic affairs of Egypt.
Edited translation from Al-Masry Al-Youm