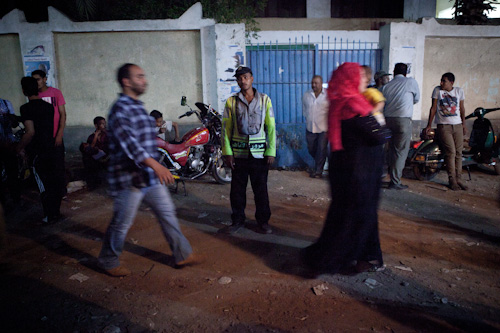 The second day of Egypt's presidential runoffs has seen a number of clashes between supporters of the two candidates, former Prime Minister Ahmed Shafiq and the Muslim Brotherhood's Mohamed Morsy.
Three persons were injured during clashes between on Sunday in front of a polling station in Giza's Haram district, when Morsy supporters stopped a bus full of voters coming from a state-run institution. The Morsy supporters claimed that the government supports Shafiq and is transporting civil servants to vote for him. The Shafiq supporters responded that they don't all work in one institution but are residents of one neighborhood who came to vote together.
The police and armed forces were able to contain the clashes shortly after they began.
In Ismailia, two people were injured in similar clashes.
Shafiq supporter Mohamed Ali Mahmoud, stabbed in his arm in front of a polling station in Beheira, was treated and discharged from hospital. Police received a report from Mahmoud that accused three Morsy supporters of beating him during a fight that closed the polling station for two hours.
Today's clashes were largely a continuation of similar incidents that were reported on Saturday, the first day of the runoff.
Al-Masry Al-Youm had reported that in Salah Salem School in Abu Qurqas, a village in Minya Governorate, there were brief clashes between the candidates' supporters. It said the clashes appeared to have been started by candidates' representatives who were monitoring the elections.
State-run Al-Ahram also reported on Tuesday verbal encounters between both camps in Qalyubiya.
Edited translation from Al-Masry Al-Youm